Bruce Hodges attends a virtual recital from Brooklyn, NY, on 19 September 2021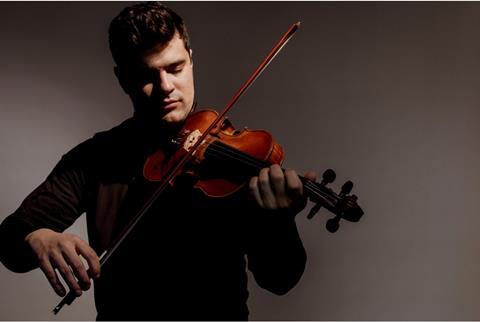 In a tribute to the composer and educator Earl Kim (1920–98), violinist Domenic Salerni presented a concert that ended with Kim's 12 Caprices for Solo Violin (1980). This was my first encounter with them and it is not hyperbole to say that these gems should be in the minds and under the fingers of many violinists. A world apart from the 24 Paganini fireballs, Kim's miniatures are quieter, sometimes meditative – and always compelling. A member of the Attacca Quartet, Salerni (below) brought years of chamber music intimacy to the table. Most engaging were no.7, marked 'Teneramente', which ends with a stratospheric ascent on the E string, and no.8, 'Risoluto', with a repeated pattern like an insistent child trying to get one's attention.
The afternoon opened with Three Places in Vicenza (2021), a world premiere by the violinist's father Paul Salerni, who studied with Kim at Harvard and offered reminiscences in short Zoom discussions before and after the concert. All three sections showed the violinist's lustre and nimble fingerwork (not to mention, his coordination of a foot pedal with a digital score – increasingly the norm for musicians who perform contemporary works). As a gift from father to son, the score handsomely showed off the skills of both.
In between came another premiere, Pastorale/Galop (2021) by Louis Karchin, who also studied with Kim and founded the League of Composers/ISCM, which presented the afternoon. The wistful and slightly reflective Pastorale eventually yields to the increasingly virtuosic Galop, before some of the opening gentle phrases return for an ethereal ending. As in the previous works, Salerni's exactitude was gripping.
BRUCE HODGES
Photo: David Goddard