A seminal moment in viola history is recreated with flair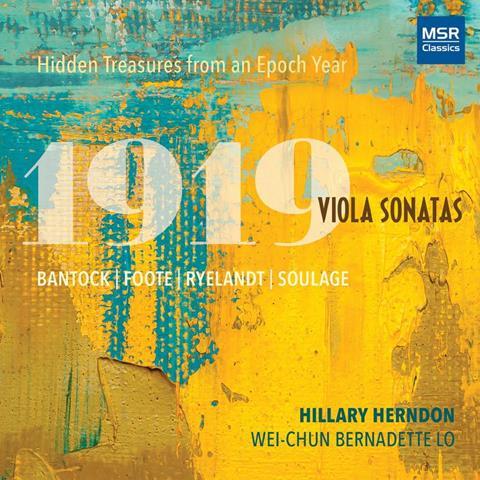 The Strad Issue: September 2022
Description: A seminal moment in viola history is recreated with flair
Musicians: Hillary Herndon (viola) Wei-Chun Bernadette Lo (piano)
Works: Ryelandt: Viola Sonata op.73. Soulage: Viola Sonata op.25. Foote: Viola Sonata op.78a. Bantock: Viola Sonata in F major – Vivace
Catalogue number: MSR MS1701
The year 1919 was a milestone in the history of the viola, with the Berkshire Festival Competition alone prompting the creation of 72 compositions. That contest famously ended with a tie between Ernest Bloch's Suite and Rebecca Clarke's Sonata (broken by Elizabeth Sprague Coolidge, its patron, in favour of the former), but no records of the other participants have been preserved. This CD includes three pieces that – according to research undertaken by the American Viola Society's David Bynog – were most likely entered for that momentous event.
For all their stylistic differences, the compositions are traditionally cast in clear-cut sonata forms. The sweeping main theme of Joseph Ryelandt's piece is effectively contrasted with a yearning second subject; there follow a melancholic slow movement redolent of Fauré and a lively finale. The undulating motifs of Marcelle Soulage's impressionistically tinged sonata emphasise the viola's high register. Arthur Foote arranged a previously composed cello piece for the viola; its Brahmsian first movement is slightly stiff in manner, but the mood lightens for a song-like slow movement and a nicely lilting finale. A delightful encore to this fascinating recital comes in the form of the jig-like finale of Granville Bantock's Sonata. This is given in a somewhat shortened form, but there are at least two complete recordings of this monumental work available.
Hillary Herndon and Wei-Chun Bernadette Lo have often performed these pieces in an intriguing 're-creation' of the 1919 competition (I heard it at the 2019 International Viola Congress), and this familiarity shows in their perfectly paced, passionate performances, which get to the core of each composer's individual idiom. Warmly recorded at the University of Tennessee, the CD is further enhanced by Bynog's indispensable booklet notes.
CARLOS MARÍA SOLARE