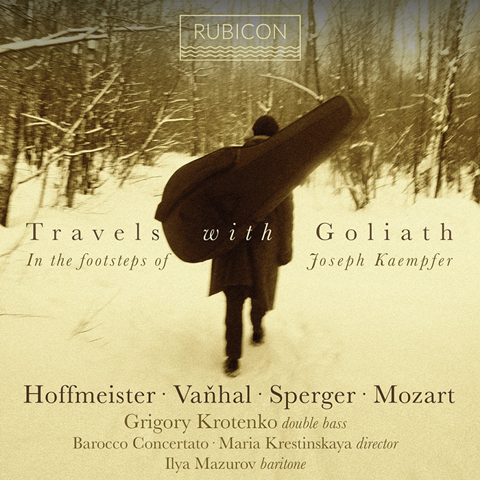 The Strad Issue: June 2018
Description: How, in 18th-century Europe, size really mattered
Musicians: Grigory Krotenko (double bass), Ilya Mazurov (baritone), Barocco Concertato/Maria Krestinskaya (viola d'amore)
Works: HOFFMEISTER Double Bass Concerto in E flat major. MOZART Per questa bella mano K6121. SPERGER Sonata for double bass and viola d'amore. VANHAL Double Bass Concerto in E flat major
Catalogue Number: RUBICON RCD1023
Josef Kämpfer (1735–?1810), although largely self-taught, became known as 'the first virtuoso of the violone'. For a Paris concert in 1787 he had a new instrument specially built – 'Goliath', a supersize bass that could be dismantled and reassembled with the use of 26 screws – which eased the life of a travelling virtuoso on such an unwieldy instrument.
Grigory Krotenko channels Kämpfer's spirit and virtuosity in a selection of the finest music of the period, inviting us to imagine his journey through the Russian snowfields, where the mysterious Kämpfer supposedly ended his days. Two concertos follow prevailing galant traditions, with Vanhal's perhaps a touch more harmonically original and (in the central Adagio) emotionally searching than Hoffmeister's.
Sperger's sonata for bass and gamba is remarkable in making the duo sound like a far larger ensemble. The Mozart aria was composed for the first Sarastro and the bassist in the Magic Flute orchestra, Friedrich Pischelberger. Ilya Mazurov is no Bryn Terfel but he sings with lyric grace; Krotenko simply steals the show in the obbligato part.
Recording is close enough to catch the mechanical sounds of fingers and bow, but conveys the rich tone over the extraordinary range across which Krotenko is required to play. The booklet gives nothing on the instruments, nor the personalities behind them. Perhaps one for specialists but strangely charming.
DAVID THREASHER