Carlos Maria Solare reports from the festival in the northern German town, primarily taking place at the Verdo Concert Hall from 30 July to 7 August 2022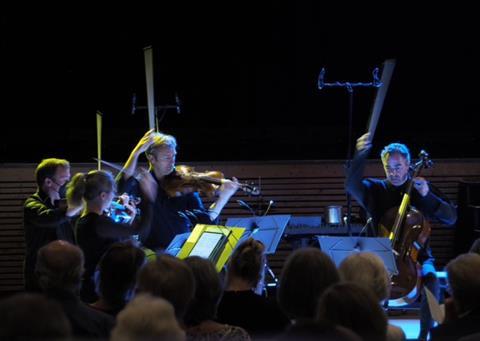 The opening concert of the Hitzacker Summer Music Days' 77th season was a tour de force from the Kuss Quartet, of which the festival's artistic director Oliver Wille is a member. Individually and in various constellations, the players took the audience on a breathtaking ride through music ranging from Haydn to – literally – yesterday. Central to the interval-less concert was POST by Óscar Escudero, a work that used AI in an intriguing way: the computer had been fed the complete works of Haydn, Mozart and Beethoven, and was seemingly taken with the latter's op.95 Quartet as it quoted from it almost literally!
The real Haydn's op.20 no.2 received a thrilling interpretation from the Kuss, with flexible rubato and lively repartee. Thomas Adès's O Albion provided a haunting background to a monologue by slam poet Bas Böttcher, a veritable 'Paganini of language', such is the virtuosity with which he delivered the most punningly intricate texts. Violist William Coleman started the proceedings with an achingly beautiful rendition of George Benjamin's Lullaby for Lalit, while Wille dealt with the almost inaudible percussive effects of Helmut Lachenmann's Toccatina. A Bach Sarabande from Jana Kuss and an Armenian song from cellist Mikayel Hakhnazaryan were cannily placed after pieces of a more extrovert demeanour from percussionist Johannes Fischer.
In another adventurous piece of programming, music by Mozart and Elliott Carter alternated to fascinating effect. At a pre-concert Listeners' Academy pianist Pierre-Laurent Aimard gave a helpful introduction to Carter's immensely intricate Piano Quintet. The elusive Epigrams for piano trio – written shortly before his death at the age of 103 – were persuasively rendered by Aimard and members of the Kuss Quartet. The ensemble also contributed a concentrated reading of Mozart's 'Dissonance' Quartet, featuring some virtuoso passagework from Jana Kuss in the finale.
Performing on a 1756 Guadagnini violin (on loan as part of his prize at the 2021 Joseph Joachim Competition), the Spanish newcomer Javier Comesaña conjured many beautiful moments, though they didn't always add up. Too free a rubato in the Franck Sonata blurred the underlying rhythm, and there were some mood-killingly long pauses between movements. Comesaña could expand his tonal palette to include more unashamedly sensuous sounds à la Toscha Seidel, but the Falla and Korngold suites were beautifully done.
Another Guadagnini instrument turned up the same evening, in the hands of violist Kim Kashkashian. Displaying a close rapport with pianist Péter Nagy, she gave sparky accounts of her own virtuoso arrangements of Stravinsky's Suite italienne (based on both the violin and cello versions) and Schumann's Stücke im Volkston. The duo then ventured into the esoteric sonorities of Lera Auerbach's Arcanum before letting their hair down in soulful readings of Argentinian and Armenian songs. My much-too-short stay in Hitzacker ended on a high, with Kashkashian joining the Kuss Quartet for Brahms's op.111. At the Listeners' Academy, she spoke of finding 'a balance between song and speech', which she proceeded to demonstrate with beautifully inflected phrases at the start of the slow movement.
CARLOS MARÍA SOLARE
Photo: Kay-Christian Heine / Sommerliche Musiktage Hitzacker