Warm and heartfelt accounts of three concertos written at the end of the 1930s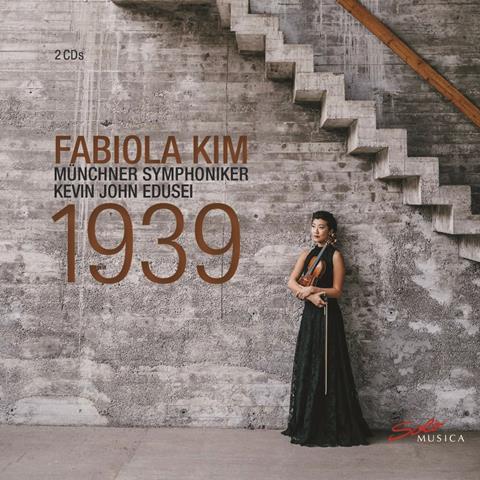 THE STRAD RECOMMENDS
The Strad Issue: November 2019
Description: Warm and heartfelt accounts of three concertos written at the end of the 1930s
Musicians: Fabiola Kim (violin) Munich Symphony Orchestra/Kevin John Edusei
Works: WALTON Violin Concerto HARTMANN Concerto funèbre BARTÓK Violin Concerto no.2 in B major
Catalogue Number: SOLO MUSICA S 308 (2 CDs)
The 1930s proved to be a bumper decade for violin concertos, and 1939 was the most productive year of all, with these three works seeing fruition (the Walton and Hartmann were both later revised), as well as concertos by Britten, Hindemith and Gál – any of which, incidentally, would have fitted on the rather skimpily filled second disc. Korean–American violinist Fabiola Kim proves an ideal exponent of all three concertos. There's real warmth to her playing in the Walton, with some perceptive interplay between her and Kevin John Edusei's Munich musicians. A particular strength is the variety of tone colours she displays, especially in the mercurial closing section of the central 'alla napolitana' Scherzo.
Hartmann's Concerto funèbre is the only work of the three here that demonstrably reflects the wider state of the world in that fateful year, and Kim's first entry is filled with fragile foreboding, matched with sombre retorts from the richly hued Munich strings. The main Allegro di molto has as much anger as vigour, and dissolves into the closing funeral march with a melancholy inevitability as Kim's keening lines peal away into an uncertain future.
Bartók's Second Violin Concerto was written as he faced the dilemma of whether to stay in Hungary or flee, and the result is one of the most overtly Magyar of his late works. Kim gives a heartfelt performance that taps its emotions as much as it exploits its unashamed playfulness, and again there's vigorous, characterful orchestral support. This, then, is a highly satisfying concerto collection, all in excellently recorded sound.
MATTHEW RYE