Premiere recordings of a prolific 18th-century Italian figure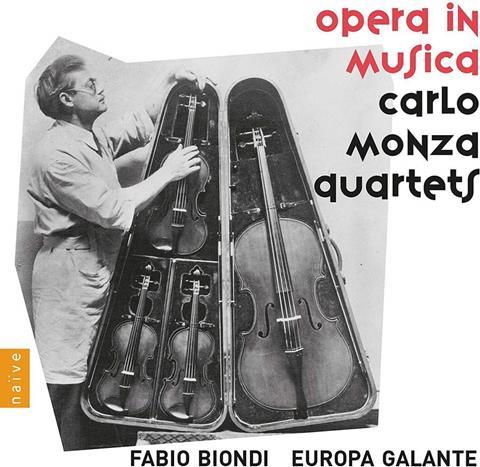 The Strad Issue: June 2022
Description: Premiere recordings of a prolific 18th-century Italian figure
Musicians: Fabio Biondi, Andrea Rognoni (violins) Stefano Marcocchi (viola) Alessandro Andriani (cello)
Works: Monza: Six String Quartets
Catalogue number: NAÏVE V 7541
Opera in Musica
The name of Carlo Monza (1735–1801) is seldom encountered except as a passing mention in the biography of Mozart, who met him when visiting Milan as a child. As well as 20 operas and a huge number of sacred compositions, Monza also wrote several collections of orchestral and chamber music. The present set of six string quartets, preserved in manuscript form in the French National Library, is a real find.
Each one carries a descriptive title and tweaks traditional musical structures to accommodate the programme depicted therein. The first, 'The rival lovers', describes an 'argument' (allegro in sonata form) followed by a 'challenge' (recitative), a 'duel' (a sequence of evocative chords), the 'death of one opponent' (a muted adagio of almost unbearable sadness) and 'the lady's desperation' (a syncopated allegro, unexpectedly but effectively in the major mode). Other stories concern a luckless gambler, a hunting party and the love life of Venus and Vulcan.
While Monza gives the leader the lion's share of the attractive thematic material, the second violin and viola also get to enjoy plenty of solo spots, with the cello mostly limited to drumming bass figurations.
Fabio Biondi and his colleagues from Europa Galante take up their roles with consistent inventiveness. They have been well recorded in a convivial acoustic, and their instruments have distinctly individual timbres, which adds to the impression of a conversation among equals.
CARLOS MARÍA SOLARE