Ambitious, attractive works blend post-modernism and touches of Prokofiev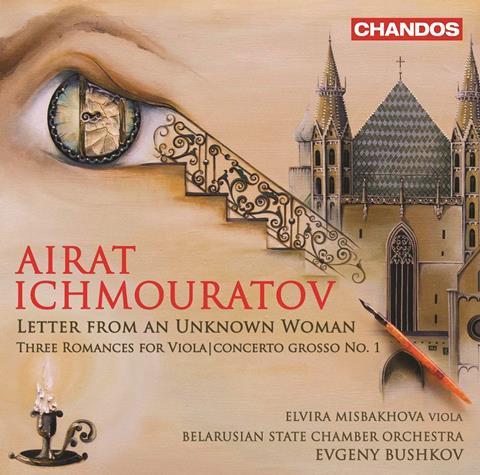 The Strad Issue: November 2019
Description: Ambitious, attractive works blend post-modernism and touches of Prokofiev
Musicians: Elvira Misbakhova (viola) Belarusian State Chamber Orchestra/Evgeny Bushkov
Works: ICHMOURATOV Concerto grosso no.1, op.28; Three Romances op.22; Octet op.56 'Letter from an Unknown Woman'
Catalogue Number: CHANDOS CHAN 20141
Airat Ichmouratov was born in the (then) Soviet Republic of Tatarstan in 1973, but for over 20 years has been based in Montreal. The three pieces included in this CD – which upholds Chandos's reputation for vivid, state-of-the-art sound – reveal the composer as a child of his time. The first movement of Ichmouratov's Concerto grosso no.1 – its concertino made up of clarinet, piano and string trio – could be a rewrite of its opposite number in Prokofiev's 'Classical' Symphony, albeit with a more heart-on-sleeve lyrical subject than the older composer might have countenanced. Surprises come in the form of postmodern bells, followed by Jewish intonations in the slow movement and an exhilarating Finale that looks back to and further elaborates on that soulful second subject.
The first of the Three Romances for viola, strings and harp creates a rustling accompaniment for the soloist to unfold its carefree song over, while the following ones are of a sterner hue in spite of deceivingly innocent beginnings. The last one features the harp more prominently, and all three include important material for different sections to accompany the solo viola.
Elvira Misbakhova is an eloquent soloist throughout, her singing tone just right for these melancholy musings. Ichmouratov's Octet is heard in the composer's own arrangement for string orchestra. Based on Stefan Zweig's tragic novella, it is the most musically ambitious piece and receives an intense reading that rounds off this attractive programme.
CARLOS MARÍA SOLARE