A stylish American quartet concludes its Beethoven cycle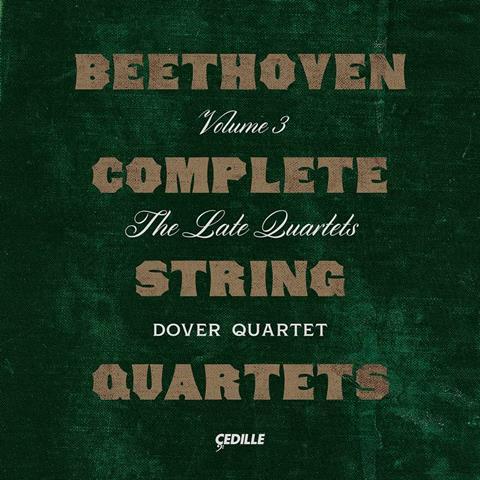 The Strad Issue: March 2023
Description: A stylish American quartet concludes its Beethoven cycle
Musicians: Dover Quartet
Works: Beethoven: Complete String Quartets vol.3: no.12 in E flat major op.127, no.13 in B flat major op.130, no.14 in C sharp minor op.131, no.15 in A minor op.132, no.16 in F major op.135, Grosse Fuge in B flat major op.133
Catalogue number: CEDILLE CDR90000 215 (3CDs)
In this final volume of its Beethoven quartet cycle the Dover Quartet maintains the qualities admired by Julian Haylock in the op.18 set (The Strad, December 2020): technical polish, thorough understanding of the music's internal structural logic and ingenuity, and rigorous exploration of its hidden expressive continuities. Add to these aspects unanimity of ensemble, tonal sonority, meticulous internal blend and balance, carefully determined and flexible tempos and fidelity to Beethoven's performance indications (though within a somewhat limited dynamic spectrum) and this is undoubtedly a Beethoven cycle to savour.
A comprehensive list of performance highlights would require far more than my allotted space. Suffice it, therefore, to praise these players' sublime Adagio and robust finale in op.127, their mercurial opening movement, graceful Alla danza tedesca and deeply expressive Cavatina in op.130, topped off by an animated and strikingly rhythmic account of that work's substitute finale. The Dover also offers a powerfully dramatic rendition of the Grosse Fuge to searching and perceptive effect, as is its contrapuntal interweaving in op.131's tranquil opening fugue and finale. The first movement of op.132 is arguably the least convincing reading here, but the players' seamless Heiliger Dankgesang is outstanding, with leader Joel Link's c.1710 Pietro Guarneri of Mantua sounding radiant throughout. Impressive too is the Dover's faithful reproduction of the countless mood changes in the Vivace of op.135 and its sustained cantabile playing in the subsequent movement.
Captured in a natural concert hall acoustic, Cedille's recorded sound offers a fine balance of individual detail and ensemble resonance.
ROBIN STOWELL