Players who, as Haydn intended, make the music sound 'new and special'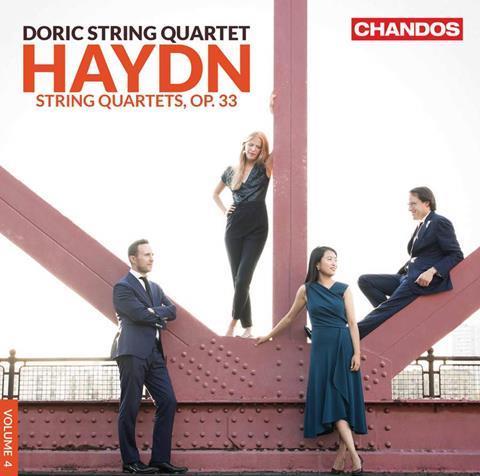 THE STRAD RECOMMENDS
The Strad Issue: December 2020
Description: Players who, as Haydn intended, make the music sound 'new and special'
Musicians: Doric Quartet
Works: Haydn: String Quartets Op.33 nos.1-6 (Hob.III:37-42)
Catalogue number: CHANDOS CHAN 20129 (2 CDs)
Volume 4 of the Doric Quartet's Haydn project reaffirms the distinctive sound world and variety of musical attributes attainable using period bows, for these players' 'transitional' Carrington reproductions facilitate a pleasing lightness of interpretative approach that abounds in subtle nuances. They cultivate a wide range of largely on-the-string bow strokes and shape phrases musically, showing unanimity of purpose and timing and laudable sensitivity to the underlying harmonic movement. They manipulate tempos skilfully, for example in the rumbustious first episode of no.2's Finale, and converse with the utmost textural clarity, as in the first movement of no.2, the luminous, high-lying registers of the second movement of no.5 and in the breakneck finales of nos.1, 3 and 4.
Their deft powers of characterisation shine through, for example, in their interpretation of the stylistic mix of no.1's Finale (especially its moments in gypsy style), the peasant dance of no.2's Scherzo and the outré glissandos in the subsequent trio and the Slavonic/Hungarian elements in the finales of nos.3 and 4. Their richly expressive slow movements and their imaginative realisation of Haydn's witty and dramatic writing are especially pleasing, as is leader Alex Redington's ready adoption of tempo flexibility, particularly in the variation finale of no.5. Although not historical performances per se, their accounts admirably reflect Haydn's own market-stirring description of op.33 as 'new and special'.
Captured in the ensemble's favoured venue (Potton Hall, Suffolk) and presented in numbered, rather than composed or published sequence, these recordings are models of fidelity, ideally balanced within a warm and resonant ambience.
ROBIN STOWELL