Tim Homfray reviews performances held at the London venue for an online-only audience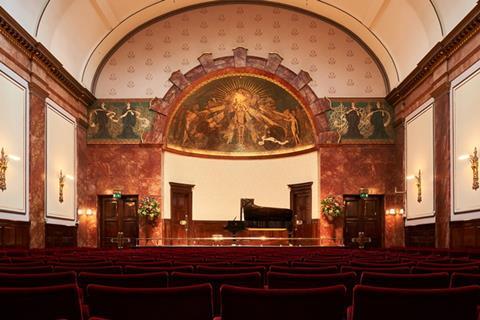 Live lunchtime concerts returned to Wigmore Hall in June, with an audience of thousands on the BBC but none in the hall. Steven Isserlis was the first string player to appear, on 8 June, with pianist Mishka Rushdie Momen. In Beethoven's F major Sonata op.5 no.1 his playing was mellow and noble, and the Allegro vivace was both thoughtful and effervescent. Schumann's Three Romances op.94 were exquisite and sometimes passionate. Last came Fauré's First Sonata. The second movement, said Isserlis, is sublime, and so it was.
The following day violinist Hyeyoon Park and pianist Benjamin Grosvenor performed the three Mythes of Szymanowski. She played 'Fountain of Arethusa' with glimmering, silver-toned purity high on the E string; 'Narcissus' was smoothly seductive, and 'Dryads and Pan' danced nimbly in double-stopped roulades. In Franck's Sonata, portamentos and little dynamic swells shaped the first movement; the second had energy and panache, the Recitativo–Fantasia unfolded with rhythmic freedom. The finale had grandeur, with a fine dash to the finish. Grosvenor was superb.
On 16 June violinist Alina Ibragimova and Kristian Bezuidenhout gave a melancholy account of Schubert's A minor Sonata D385. She punched the opening minims, with full-blooded vibrato, before relaxing into caressing lyrical playing which flowed through the rest of the work. There were wonderful moods and contrasts in the first movement of Beethoven's 'Spring' Sonata, with spirited playing of the triplet figures. After the empyrean slow movement and the sprightly Scherzo, the finale bubbled effervescently.
On 23 June there was a rare appearance by a violin and viola duo, Benjamin Baker and Timothy Ridout. They brought easy charm, and impeccable technique, to Mozart's B flat major Duo K424 in a light and elegant performance. In Sibelius's C major Duo they drew out harmonic and dramatic colour. There was energetic dialogue in Martinů's Three Madrigals.
Cellist Guy Johnston and pianist Melvyn Tan opened their concert with a sprightly performance of Beethoven's 'Bei Männern' Variations. In Schumann's Fantasiestücke there was profound playing in the second piece, and the last was urgent and unsettling. The first movement of Chopin's G minor Sonata was sometimes turbulent; the Scherzo scampered with fine, flowing playing of its central melody. The Largo had gentle majesty before the broad sweep of the finale.
TIM HOMFRAY