Peter Quantrill hears the performance at London's Barbican on 26 November 2021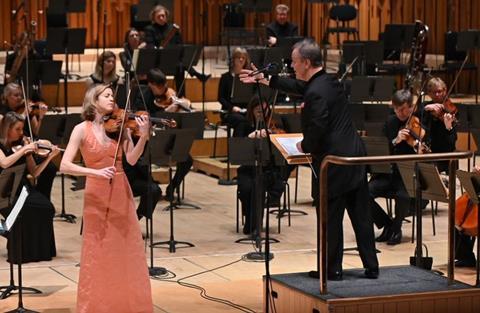 The undoubted event of this concert was a rare outing for the Symphony of Dora Pejačević: the first known Croatian symphony of modern times no less. Composed in 1917, this fiery and remarkably individual 50-minute work was given here in a performance of burning conviction which should help to throw light on the remarkable figure of Pejačević, who died at the age of 37 with a small but impressive catalogue of works to her name, including a rapturous E minor Cello Sonata and intensely wrought String Quartet.
It says something for the strength of Vilde Frang's artistic personality that her account of Beethoven's Violin Concerto was by no means overshadowed. From the swift and well-shaded opening quartet of drum-taps, the reading had her name all over it. Oramo's second-string talent as a violinist came to the fore in his lively rapport with the soloist, and in their shaping of the first movement together as a properly symphonic entity, by no means as placid or featurelessly grand as some celebrated recordings would have us believe.
Frang herself was on magnificently uninhibited form, ideally capturing the Concerto's sound world on the cusp of Romanticism while paying due respect to the 18th-century contours of the solo part, notably in bowing and phrasing which infused runs and passagework with new life. She phrased the Larghetto as a rhapsody rather than a hymn, establishing a sonata-like intimacy with the BBCSO winds, which served her well for the balletically sprung finale. Outstanding.
PETER QUANTRILL