Tim Homfray attends the performance of Britten, Bartók and Dvořák at London's Wigmore Hall on 16 November 2022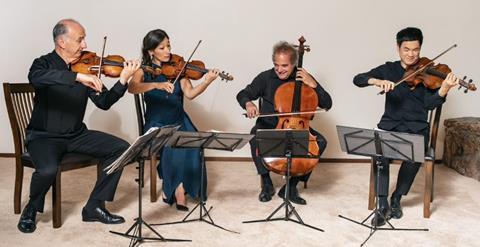 The Takács players produced an intense, colourful performance of Britten's First Quartet in this Wigmore Hall concert. The opening movement was suitably intense, with great intermingling of voices; the long lines of the third movement Andante calmo were beautifully controlled, with veiled tone from leader Edward Dusinberre and focused solo vignettes of increasingly urgency; there was nimble playing and severe beauty in the quirky Molto vivace finale. Throughout the quartet Britten puts the cellist through his paces, challenges all ably met by András Fejér.
Violist Richard O'Neill performed the opening Mesto of Bartók's Sixth Quartet with sad eloquence, and there was a real will-o'-the-wisp quality in the following Vivace, with sparkling interplay between the parts and pinpoint rhythmic precision. The snapping dotted rhythms of the second-movement Marcia were fierce, and there was terrific plaintive playing from second violinist Harumi Rhodes high on the G string. The Burletta sounded like an earthy, lopsided peasant dance, with scratchy staccatos and an edge of brutal burlesque comedy, while the slow Mesto finale was anguished and strange.
The opening Allegro moderato of Dvořák's G major Quartet op.106 was joyful and energetic. After the full-toned, hymn-like opening of the following Adagio, Dusinberre produced seductive lyrical playing, in keeping with the music's emotional fluctuations. The trio of the Molto vivace was lush and enchanting, and the finale flowed happily.
TIM HOMFRAY