Leah Hollingsworth hears the performance of Dvořák's Cello Concerto at Alice Tully Hall on 11 November 2021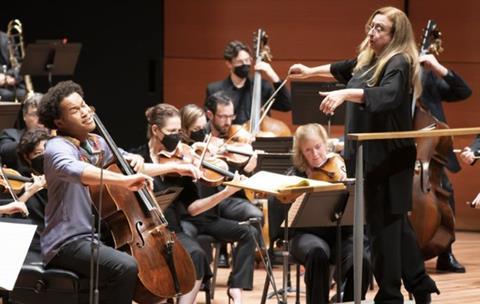 Appearing in his New York Philharmonic debut, cellist Sheku Kanneh-Mason played Dvořák's Cello Concerto with joy and effusive emotion. His soulful approach and deep confidence were complemented by seamless shifting, effortless spiccato and lovely pitch – only hindered slightly by his somewhat distracting facial expressions. The serenity of the second theme in the Allegro was stunning, and yet the energy with which he played runs and scalar passages carried the audience along with him as if racing up a mountainside, triumphantly and together. The opening of the Adagio was breathtaking; one of his clearest strengths is his deep emotional connection to the music and ability to communicate this tangibly to his audience. His tender moments were intimate and carefully constructed, captivating his listeners, while the remainder was exuberant and played with abandon. The audience rose to its feet in appreciation and celebration after his rousing Finale.
For an encore, he performed the 3-Minute Cello Concerto, written by eleven-year-old Larissa Lakner as a part of the Philharmonic's Very Young Composers programme. The piece was filled with extremely clever writing for the orchestra and appropriately virtuosic lines for the cello, which Kanneh-Mason performed with enthusiasm.
Principal string solos were especially lovely in the concert's opener, Webern's arrangement of the Ricercata from Bach's A Musical Offering. Brahms's epic Symphony no.1 followed the interval, and had terrific string playing and stunning wind solos throughout. The work was brilliantly paced, with artful phrasing that was engaging to the last note.
LEAH HOLLINGSWORTH
Photo: Chris Lee