Charlotte Gardner hears the Indian ensemble perform at Cadogan Hall, London, on 25 February 2019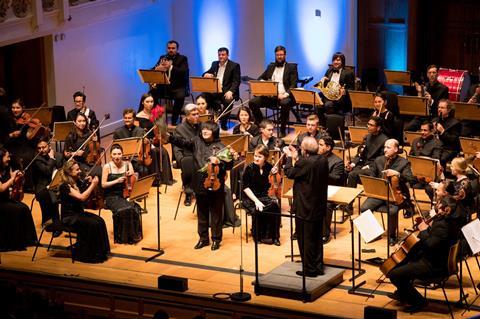 The Symphony Orchestra of India's first ever UK tour presented a fascinating opportunity to hear what it can do; and as it kicked off its Cadogan Hall final concert with Weber's 'Oberon' Overture, first impressions were good: an opening horn call came as magically cloaked and silky as one could wish, answered by warmly polished strings. Then, while the string sections' overall blending wasn't always as polished as they sounded individually, and while the violins' Allegro con fuoco semiquaver passagework lacked en pointe definition, the energy, lightness and early Romantic sensibility were all there. Certainly it contained the promise of an orchestra about to deliver on the rest of the programme's full-blown Romanticism.
This was an impression belied by the performance of Bruch's Violin Concerto no.1, where sadly Martyn Brabbins and the orchestra deserve credit not simply for their great sound and committed reading, but for holding things together when dealing with a soloist who showed little awareness of them at all. In fact, from his curiously stop-start and laboured opening statement, Bisengaliev (left) was an uncomfortable enigma, with messy position changes and passagework, unpleasantly flat-toned upper registers, hard-edged vibrato and a narrow colouristic palette, all making this a performance one could justifiably have walked out of.
Thank goodness, then, that it was the orchestra alone that had the concert's final say, with a Rachmaninoff Second Symphony showcasing expertly handled drama and lush-toned beauty with an especially fine cello sound. Add a palate-cleansingly sweet and light Salut d'amour encore, and there was at least a happy conclusion to this landmark visit.
CHARLOTTE GARDNER
Photo: NCPA Mumbai