Tim Homfray hears the performance of Bach, Froberger and Muffat at London's Wigmore Hall on 9 July 2023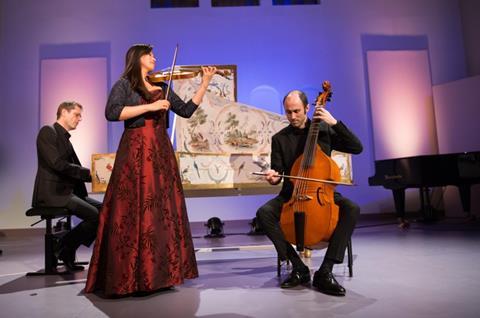 Fantasticus
Wigmore Hall 9 July 2023
This concert featured only two-thirds of Fantasticus. With violinist Rie Kimura indisposed, viola da gamba player Robert Smith and harpsichordist Francesco Corti held the fort – and held it very well. Bach's three viola da gamba sonatas formed the spine of the concert. Smith performed the opening Vivace of the Third with agility and momentum. There was calm progress in the Adagio, spiked with expressive surges and nice ornaments, and the final Allegro was dance-like and energetic.
The four movements of Froberger's Suite no.20 in D minor were stately, with an improvisatory air. In the initial Adagio of Bach's Second Sonata there was plenty of give and take between the artists, with Smith careful to let Corti sound through. Along with the springing rhythmic precision of the Allegro there was great expression – and even touches of humour; after the beautifully contoured Andante the pair built up quite a head of steam in the closing Allegro.
Smith's own solo work Dido's Torment is an entertaining piece, sometimes chordal, with plenty of double-stopping and syncopated up-tempo passages, all played in fine style. After a vivacious, virtuoso performance of Muffat's Passacaglia in G minor for harpsichord, Bach's First Sonata was variously mellifluous and exuberant.
TIM HOMFRAY