Bruce Hodges visits New York's Zankel Hall on 30 March 2022 for Mozart, Shostakovich and Schumann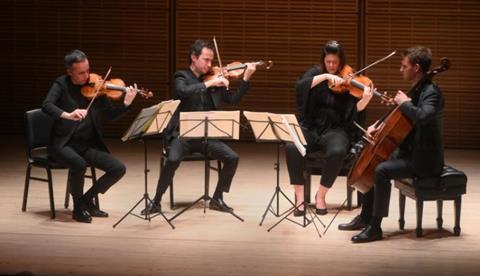 The Ébène Quartet launched into Mozart's String Quartet in G major K387 with a mix of soft elegance, joie de vivre and exquisite tuning – as gorgeous as any ensemble in recent memory. But that loveliness dovetailed with thoughtful phrasing and precisely engineered pauses, which somehow evoked a vintage photograph given a 21st-century makeover. In the finale, the leisurely opening gave no hint of the immaculately articulated exuberance to come. Two curtain calls finished the rest of the story.
Shostakovich's Quartet no.8 – surely his best-known and written in a mere three days – carries the weight of countless interpretations over the years. Its inclusion took on added meaning, given the current situation in Ukraine, with cellist Raphaël Merlin noting: 'We have never played any Shostakovich before, and we would like to dedicate this to all the refugees.'
The first movement, with its insistent repetition of the 'DSCH' motif, spoke of hesitance and sorrow, followed by the propulsive energy of the second, laced with trills and demented waltz rhythms. The fourth-movement Largo, despite its aggressive emotional bursts and gruffness, added solitude to the palette, while the finale subsided into ambiguous quietude.
The final work in the programme was Schumann's F major Quartet op.41 no.2, given with the same warmth and luxurious attention to detail that had characterised the evening. The finale, with its brilliant plumage, made a particularly indelible impression.
BRUCE HODGES
Photo: Pete Checchia