Edward Bhesania hears the performance of Ligeti, Mozart and Schumann at London's Wigmore Hall on 15 September 2023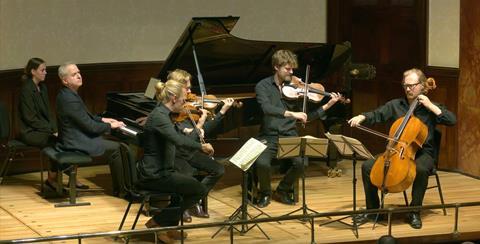 A delayed flight threatened to hamper this concert, but while the Danish Quartet gathered itself, Jeremy Denk sportingly opened with his six Ligeti Études – a performance showing off not only his way with complex scores but also his ability to draw profound beauty from the piano. The Danish Quartet then appeared, to relief all round, after the early interval, even if cellist Fredrik Schøyen Sjölin played initially in casuals, his luggage having been further delayed.
If the hiatus impacted on their playing, it was only to embolden it, with Mozart's Piano Quartet no.2 opening with bristling energy. Denk steered the lyricism in the second movement and the finale bristled with good humour and a light touch. Britten's Three Divertimenti brought a different edge, with the quartet (Sjölin now in concert gear!) revelling in its textural variety, not least in the pizzicato-laden presto Burlesque.
This turned to brilliance and exuberance in Schumann's Piano Quintet, the first movement contrasting viscerally powerful tuttis with a development of drama and urgency. Perhaps the slow, dotted-rhythm tread of the second-movement march didn't quite settle in its step, but the Scherzo practically achieved lift-off. The quartet exudes Scandi-cool while Denk tends towards cerebral intensity, but there's no question of the chemistry in this partnership.
EDWARD BHESANIA