Peter Quantrill visits London's Royal Festival Hall for the performance of Tom Coult, and Vaughan Williams on 24 October 2022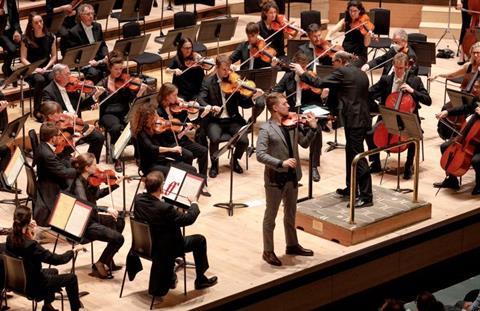 The premise of Tom Coult's Pleasure Garden, given its premiere in 2021, draws in the listener with the alluring promise of gardens in sound from medieval Japan, Renaissance Italy and Victorian England. The four-movement concerto stands on its own terms, however, without narrative props, thanks not least to a restlessly inventive solo part which rarely takes the same turn twice (unlike a slew of other modern concertos) and to Daniel Pioro's playful mastery of it.
Rain arrives and falls in the mind's ear readily enough through the opening movement, but the lasting impression is of a Stravinskian vitality of discourse between soloist and orchestra. The second movement's introspective cantilena evokes antiquity and distance without resort to neo-Classicism, before a scherzo brings tension and competition to a recitative–arioso form that sets the violinist amid an aviary of fluttering and chirruping.
Rather than the lush cantabile cultivated by violin concertos up to Berg, Pleasure Garden seems to demand a soloist at home with Biber, Bach and the 20th-century's rich solo repertoire, and Pioro played his part accordingly, modest in projection but engaging with every detail of the score.
After the interval, he treated The Lark Ascending to a makeover even more radical than Pekka Kuusisto's at the 2022 Proms, in keeping with the stripped-back aesthetic of Coult's writing, and tapping into the piece's roots in folk-song.
This particular lark seemed to have flown from Gloucestershire to Cork, to judge from the liberal and unwritten ornamentation; Pioro certainly blew the cobwebs of late Romantic rapture from the piece, but he might have done so no less individually while playing the notes Vaughan Williams wrote.
PETER QUANTRILL