Leah Hollingsworth pops round to Alice Tully Hall, NYC, for the recital on 14 January 2020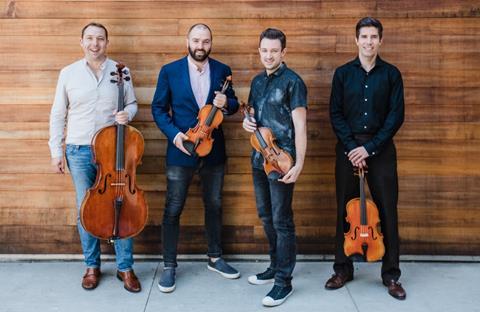 Josef Suk's Elegie for violin, cello and piano op.23 provided a pleasant opening – although I personally found violinist Adam Barnett-Hart's fast and seemingly ever-present vibrato a little distracting from the long lines. Janáček's wonderful and quirky Violin Sonata followed, brilliantly performed by Barnett-Hart and Juho Pohjonen. The clarity of the different characters of the piece was wonderful and the contrasts that the pair achieved demonstrated not only mastery of their own instruments, but also a deep knowledge of the score.
The Escher Quartet performed Debussy's Quartet op.10 and I've never heard a clearer, more articulate interpretation of the piece. Every accompaniment, every decoration or characteristically French gesture was crystal-clear and perfectly together. The players' interpretation was unique and remarkable in this way (even if not quite what I personally prefer). The second movement had a fine viola solo in the opening but a little more variety in each iteration would have been nice. The Andantino was played with skill but maybe not enough heart: while the movement demonstrated a beautiful sound overall, it felt sterile. The final movement boasted terrific ensemble and some brilliant individual playing.
Brahms's A major Piano Quartet concluded the programme, and I appreciated the responsiveness of the strings to the piano (and vice versa) in the exuberant opening movement especially. Violinist Danbi Um's stunning colour changes in the second movement were captivating and I loved hearing her extreme expressivity come out even in the context of the densely written Brahms. The third movement was performed with great energy and momentum, and the theme in the Poco allegro was perfectly played with poise and elegance. The quartet finished with a truly vivacious finale that was well played and well scaffolded with great building to the end.
LEAH HOLLINGSWORTH