Bruce Hodges reviews the performance at Studzinski Recital Hall, Bowdoin, ME, on 31 July 2023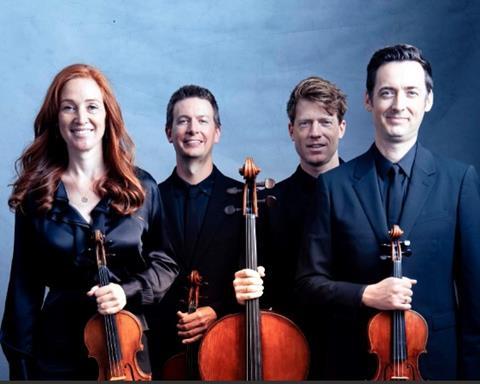 Thomas Adès's Arcadiana, written when he was just 23, remains one of his most endearing works, as the Calder Quartet demonstrated at the Bowdoin International Music Festival. Particularly effective was the third movement, inspired by a Schubert song with 'dripping pizzicatos', with an echoing glissando in the following movement. A welcome idyll appeared in the sixth movement 'O Albion' (based on Elgar's 'Nimrod'), and the foursome nailed the offhand ending, which trailed off into the distance.
Edward Arron joined Eric Byers as an additional cellist for Boccherini's Quintet op.28 no.4, to which the musicians brought a drawing-room intimacy. The nimble finale was especially fetching, bubbling over with spryness and humour. The group's giddy expertise drew wild cheers from the crowd, with many of the audience seated on stage.
After the interval, for Beethoven's op.131, those on-stage chairs had disappeared – perhaps a conscious decision to underline the work itself, without audience reactions. In any case, the first movement possessed reverence and fragility. Smiles throughout conveyed the rapport between the players, such as the fourth movement's effervescent pizzicatos. In the Presto the group found exactly the right mix of playfulness and speed, aided by lissom bow strokes and expert timing. Among the legions of musicians who can give this monument the enigmatic glory it deserves, the Calders can easily join them. An encore seemed almost mandatory, and the players obliged with more Beethoven: the fourth movement of op.18 no.3.
BRUCE HODGES