Tim Homfray gives his thoughts on a performance of Walton's Viola Concerto at LSO St Luke's on 14 October 2021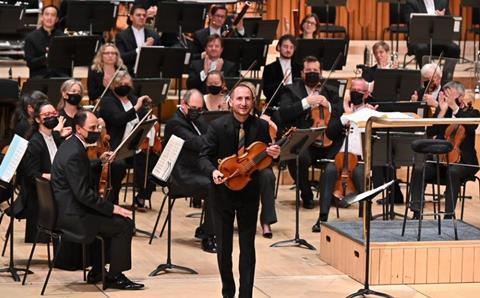 The LSO has done a fair number of concerts at St Luke's recently, mostly to be televised with or without an audience. The hall is set up for video recording, with the orchestra facing away from the seating. So for this concert, violist Antoine Tamestit played to us across an orchestra facing the wrong way, with all the concomitant problems of balance this occasionally caused.
Robin Ticciati set a broad speed at the outset of Walton's Viola Concerto, and Tamestit produced a nicely languid opening paragraph, with some leisurely musing in 6ths to come, redolent of sunny afternoons in Walton's beloved Italy. He was robust in the semiquaver passagework, but still in danger of disappearing beneath the orchestra, and although he set up the recapitulation beautifully with his double-stops, the following passage was rather lost below the wind solos.
In the second-movement Vivo he produced great passages of gathering momentum and rhythmic snap, as well as some tremendous fruity playing on the C string. There was a sense of humour underpinning the finale, which danced before relaxing into the warmth of the central melody and ended in silky sotto voce. In Brahms's Fourth Symphony the LSO was magisterial, with lush strings and wind playing.
TIM HOMFRAY
Photo: Mark Allan