Bruce Hodges hears the star trio perform at Carnegie Hall on 12 March 2019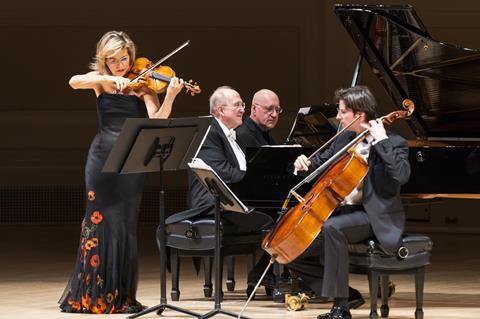 It's unusual for an audience to cheer a world premiere, but luxury casting for Sebastian Currier's Ghost Trio – Anne-Sophie Mutter joined by cellist Daniel Müller-Schott and pianist Lambert Orkis – produced an audience reaction fervent enough for an encore: the sixth, pizzicato-happy 'Syncopated' movement. Currier's ingenious conceit uses shards of piano trios from the past – Beethoven, Brahms, Mendelssohn – which appear and disappear in puffs of microtonal smoke.
Two Mozart sonatas – in E minor K304 and B flat major K454 – showed Mutter and Orkis at their most attentive and synchronised. In the earlier one, Mutter began with no vibrato, before subsequent phrases blossomed like tropical plants. Poulenc's 1942–43 Sonata, which closed the evening, boasted a sparkling surface, but with a forlorn undertow of struggle.
Aside from the premiere, Debussy's Sonata was the apex, with Mutter adopting a velvety sensuousness, completely removed from her crisp display in Mozart. As a friend in San Francisco wrote, after seeing the same programme (minus the Currier premiere), 'Tone, tone, tone', and never was her 1710 Stradivari put to more seductive use. Among many virtues was her chameleonic ability to change her sound – and her approach – for disparate works.
Two encores struck gold – both by André Previn, who had died two weeks earlier. First came 'Spirited', the initial movement of his 2009 Piano Trio, and from 2001, the central 'Song' from Tango Song and Dance. Before Mutter and her colleagues unspooled Previn's touching, cinematic phrases, she expressed hope that the beloved conductor and composer was enjoying himself, communing with Mozart and jazz great Oscar Peterson.
BRUCE HODGES
Photo: Chris Lee