A masterpiece of quartet playing in a masterpiece of quartet writing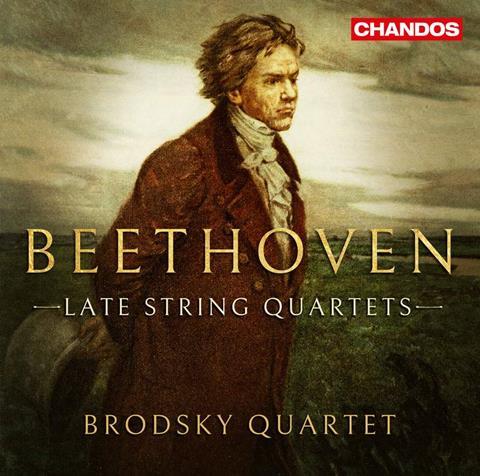 The Strad Issue: May 2020
Description: A masterpiece of quartet playing in a masterpiece of quartet writing
Musicians: Brodsky Quartet
Works: Beethoven: String Quartets: in F minor op.95, in E flat major op.127, in B flat major op.130, in C sharp minor op.131, in A minor op.132, in F major op.135; Grosse Fuge op.133
Catalogue Number: CHANDOS CHAN 20114(3) (3 CDs)
Beethoven's late quartets are usually reckoned to begin with his E flat major op.127. The Brodsky Quartet begins with the F minor op.95, and justifies it with a startling performance, a stylistic distance apart from its earlier colleagues. There is a dry ferocity in the opening movement, balanced by almost sensual soaring phrases, and frenetic nervous energy in the finale, with its bulging hairpin dynamics. In the first movement of op.127 the players are both vehement and caressing, and the second is a captivating narrative, amiable and sometimes troubling.
The opening of the B flat major op.130 gives a fair example of their expressive toolbox, with rhythms precise and pliant, and vibrato that can be sparing or rich and full, and provide rhythmic emphasis. The Andante con moto is a persuasive mix of suave legato and bone-dry staccato. Both finales are here. The Grosse Fuge opening, for all its ferocity, is tonally focused and the textures always clear. The Allegro molto e con brio section has a cheery lightness.
There is a hushed intimacy in the opening fugue of the C sharp minor op.131, and the great overarching lines which follow give it a timeless quality. Elfin grace and nervy disjointed playing feature in what proves to be a great performance. The first movement of the F major op.135 is here light and twinkly, there stern, the episodes strange and questing. The Assai lento unfolds inexorably and serenely. Finest of all is the A minor op.132, particularly the remarkably sustained slow movement, a masterpiece of quartet playing in a masterpiece of quartet writing. The recordings are vivid, warm and clear.
TIM HOMFRAY