Modern Russian music for cello in persuasive hands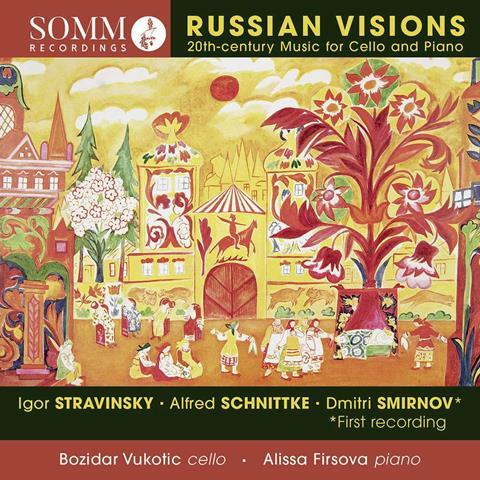 The Strad Issue: May 2020
Description: Modern Russian music for cello in persuasive hands
Musicians: Bozidar Vukotic (cello) Alissa Firsova (piano)
Works: Schnittke: Cello Sonatas nos.1 & 2, Musica nostalgica. Smirnov: Tiriel. Stravinsky: Suite italienne
Catalogue Number: SOMM SOMMCD0606
The novelty here is Tiriel, a rhapsody written in 1984 by Dmitri Smirnov, Alissa Firsova's father, based on his Blake-inspired opera of the same name, but it doesn't feel like a satellite work in the hands of Bozidar Vukotic. The overall mood of gentle resignation is sustained in long, lyrical lines, with Firsova's rippling piano part always contributing enough harmonic question marks to keep the listener guessing as to its eventual resting place.
Currently cellist of the Tippett Quartet, a former student of Alexander Kniazev, Vukotic plays the Schnittke sonatas with a spirit of intimate familiarity but unburdened by the reverence accorded to them in previous recordings, mostly made by cellists of the composer's own generation. The closing lament of the First Sonata takes wing at Vukotic's considerably more flowing tempo, and the more elliptical material of the five-movement Second Sonata (originally conceived for violin) is drawn into a persuasive sweep: I like the glowing core of Vukotic's sound, steadily projected through the tenebrous recitative of the opening movement, the furious eruptions of the second and the anguished lament of the third.
The transcription down the octave works for Schnittke's sonata because of the strident, register-crossing nature of the string part, whereas I find the cello version of Stravinsky's Suite italienne suffers from both instruments crowding each other's space. However, Somm's recording boosts the cello sympathetically, and Firsova's sensitivity at the keyboard cedes the limelight to Vukotic, who resists the temptation to clown around in Stravinsky's neo-Classical costume, lending the picaresque central Aria a rare sturdiness and uncomplicated good humour.
PETER QUANTRILL