John Dilworth reads through a guided tour of one of the finest stringed instrument collections of modern times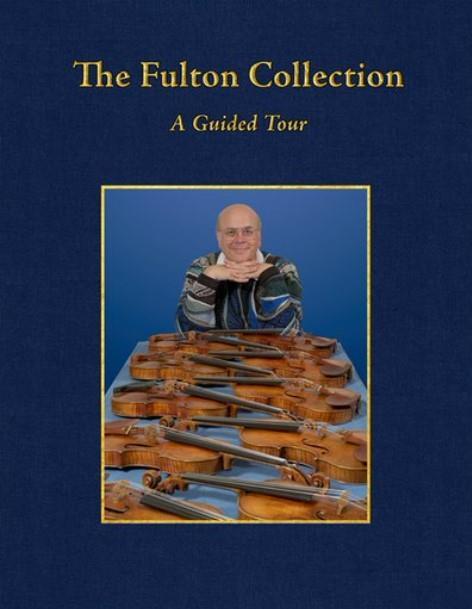 The Fulton Collection: A Guided Tour
David L. Fulton
464PP ISBN 9781739802998
PETER BIDDULPH £120
This is one of the most enjoyable violin books I have ever read. It is a memoir of David Fulton, one of the greatest collectors of recent times, and a catalogue of his collection. He is an engaging, thoughtful and funny writer, bringing humour and anecdote into a serious guide to the many fabulous instruments he has owned, and a rare and honest insight into the background and formation of an obsession.
He begins by calling violin collecting a form of 'ecstatic madness', traced back through his childhood and student days as an enthusiastic player in school and university orchestras with a humble German violin. He comes to terms with his limitations as a musician, and recalls his first meeting with a lifelong friend, the equally enthusiastic collector Bill Sloan, a 'Certified Fiddle Nut' as Fulton calls him. He is introduced to the violin dealers Bein & Fushi in Chicago, and dryly describes the winning sales technique of Robert Bein, providing him with his first Italian instrument, a 'Testore school' violin.
We are then introduced, after being cordially invited to take a sip of wine (advice I happily followed, and a recurring theme in the book) to his first major acquisition, a beautiful decorated 1698 Pietro Guarneri of Mantua. The first of many sets of wonderful fine-quality and comprehensive photos follow over four pages (a later chapter is devoted to the specialist techniques of violin photography, which is clearly another passion), definitely best appreciated with a matching full-bodied red in my humble opinion. The full provenance is also provided, before an engaging account of the purchase.
His intense delight in the Guarneri drove him towards his next purchase, the 1715 'Baron Knoop' Stradivari, and again we meet the instrument in beautifully reproduced photographs. The detailed account of its history, and of Baron Knoop, is gleaned largely from the rich archive of W.E. Hill & Sons, much of it previously unpublished.
And on we go, in a lively tour of the rest of Fulton's fabulous collection, sharing in the excitement of the chase and the landing of the prize, with the best of all possible guides. He has deliberately set out the instruments in order of acquisition, which adds greatly to the biographical element of the book, and immerses each instrument in the right place in his narrative, rather than being grouped together in a separate, isolated section. For me this is particularly effective in bringing the instruments and their rich and fascinating histories to life. There is a great tale on every other page, and genuine insight and fascinating, often new detail about the instruments in all the rest. I will not quickly forget his account of a séance in Cremona which summoned up the spirits of Stradivari and Sacconi, who seemed to be getting on well together in the afterlife. Another joy is Marianne Wurlitzer's account of travelling down to London, with the 'Harrison' Pietro Guarneri of Venice cello in its case, wrapped in silk scarves in the back of her Austin-Healey.
It would be tedious to list all the great Strads and Guarneris (seven outstanding examples of each), as well as the only slightly less revered instruments in here, from Gasparo da Salò to G.B. Guadagnini, 28 in all. Obvious highlights are the 1709 'La Pucelle' Stradivari, and the 1742 'Lord Wilton' Guarneri 'del Gesù', which involves some of the most interesting analysis in the book. Only one non-Italian instrument features, which I am happy to say is an 1898 Voller Brothers copy of his own 1735 'D'Egville' Guarneri, which also draws some very interesting reflections.
I hesitate over the name. The author is obviously very happy to be known as 'Dave', and it seems entirely in character with his style and his clear-eyed honesty about the benefits and the constraints of violin collecting. He states, justifiably and without any pretension, that his was if not the greatest collection in number, quite probably the greatest collection in pure quality (an excellent topic for late-night discussion over a bottle or two). And he laments that it is likely to remain so, now that the chief 'collectors' are banks and institutions, chasing the soundest investments that money can buy. The passion is disappearing. He is also fully aware of the role that collectors have always played in the preservation of great instruments. Many of the world's greatest instruments are great because they have passed from collector to collector, largely protected from the wear and tear of the concert platform. Well-disposed collectors with a real passion for the instrument (unlike for example Joseph Gillott, a 'by-the-yard' buyer who left his fabulous but unplayed and uncatalogued collection strewn around the offices of his pen-nib factory in Birmingham like autumn leaves) will offer their instruments for players and other connoisseurs to enjoy. It is hard for a player to make the strong bond with an instrument that is likely to be returned to the investment bank that owns it. Dave (as I feel I can now comfortably call him myself) is fully aware of both his great good fortune and his equally great responsibility in curating such a wonderful treasure trove. In 2020 he decided to sell the bulk of his collection, a move he discusses with characteristic humour and practicality. But he has held on to the 1715 'Baron Knoop' Strad, his favourite to play, his first serious violin, the 1698 Pietro of Mantua, and a 1793 Guadagnini viola, because as he says, you always need a viola (again, very good advice in my opinion), and last but not least, his Voller, 'for use at sea' - in his motor yacht.
My strong recommendation is that anyone with any feeling for a violin, a viola or a cello should buy this book, along with a few favourite bottles (the author enjoys a Puligny-Montrachet, appropriately 'Les Pucelles'), and pass several indulgent evenings in the genial company of Dave, and some of the most gorgeous instruments in the world.
JOHN DILWORTH