Peter Quantrill hears some of the more recent additions to the string repertoire at this year's BBC Proms season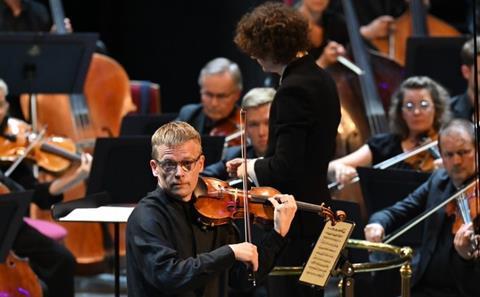 Henry Wood, founder of the Proms, was always determined to introduce his audiences to the best of new music, whether or not they were likely to enjoy it on first listening. It seems appropriate that the most striking string concerto performances in the 2022 season were of late 20th- and 21st-century works, beginning with the Viola Concerto composed in 2013 by Sir James MacMillan (18 July).
One ill-informed criticism levelled at new music used to be that it allowed no room for a musician's personality, but you could hardly mistake Lawrence Power's sound for anyone else's, more ardent than plangent, projecting easily across the stretches of the Royal Albert Hall and defying viola-concerto clichés of unrelieved melancholy. The form sustained its length: a brief prelude with the sense of an ending, a quick argument and pursuit interrupted by a lyrical hymn, then a rhythmically tense finale that kept its powder dry for a euphoric climax.
The support of the BBC Philharmonic under Juanjo Mena seemed attentive enough – both the conductor and the concerto itself were late replacements – but Power's shaping of the solo part left the comparatively banal orchestral support in the shade. His encore opened the envelope of expression still further in a cross-string evocation of bells by Johann Paul von Westhoff that anticipated the D minor Chaconne of Bach.
A Sunday matinee Prom on 14 August was notable less for its sliver of concertante action – a song-without-words violin transcription of the radiant apotheosis to Kaija Saariaho's opera L'amour de loin (2000) – than for the all-round excellence of the Northern Sinfonia's string playing. As both soloist and orchestral leader, Maria Włoszczowska drew a memorably dynamic response from her colleagues – hushed but tingling with detail in the Saariaho, sure-footed and urgently expressive for symphonies by Haydn and Beethoven. Dinis Sousa's conducting showed a modern mastery of Classical style.
The main evening Prom that day brought a striking contrast of style in Jennifer Koh's playing of Procession, the new concerto written for her by Missy Mazzoli. Where some of MacMillan's orchestral eruptions reminded me of a blunted Ted Hughes line, Koh and Mazzoli between them evoked something of Emily Dickinson's artless wonder – and her economy of expression, in a five-movement form spanning barely more than 20 minutes.
Energy and astringency compensated for Koh's relatively thin tone, apparently modelled like the concerto on a Stravinskian neo-Classical scale. The faltering steps of the concerto's central still point seemed to belong not always to the score but to some fuzzy coordination of a slimmed-down Philharmonia Orchestra by its extrovert chief, Santtu-Matias Rouvali. Nevertheless, Procession transcended its pandemic origins in a reworking of minimalist and Romantic-concerto tropes with sufficient individuality to reward repeated listening to the BBC broadcast (and, who knows, a recording).
On 26 August the Pekka Kuusisto show rolled into town with a predictably radical take on The Lark Ascending. Paying heed to Vaughan Williams's liberal sul tasto markings, he kept a capacity audience on the edge of their seats at times with the merest feather of tone. Some pure-tone, superficially uninflected phrasing of the long lines and then folksy, quasi-improvised handling of the central interlude directed our ears back to a prelapsarian world as innocent of Romanticism as the opening paragraphs of the Tallis Fantasia, though in this case more self-consciously rustic in character, and all the more bittersweet for its evocation of a lost Eden.
Birdsong resurfaced on speed in the third 'Skylark' movement of the 2020 Märchentänze by Thomas Adès, newly presented in orchestral guise by the Finnish Radio SO and Nicholas Collon. The Adès world of uncanny purity and sudden dislocation seems made for Kuusisto, but perhaps the most sincerely inward and straightforwardly affecting of his solo spots arrived with the encore, a Sibelius Humoresque dedicated to the memories of his recently late mother and brother.
A cloud of irony and uncertainty over how seriously to take the music never fully cleared from the Viola Concerto of Alfred Schnittke in spite of the complete authority of Tabea Zimmermann's performance on 4 September. A wicked cartoon in the programme depicted the composer as a musical chemist, pouring a tincture of Beethoven into a suspension of 'Pseudo-Baroque pastiches' and 'Banal popular tunes': quite so. Backed by the Berlin Philharmonic on top form under Daniel Harding, however, Zimmermann sustained the slender thread of the long final Largo and brought impassioned sincerity to its intimations of extinction.
Personal conviction was also key to the success of the Violin Concerto by Wynton Marsalis, given the following night by its first and so far only interpreter, Nicola Benedetti. Flavours of an Ivesian parade, Scottish folk, bluegrass, big band and much more are liberally poured into a diffuse four-movement structure, placing heavy reliance on the soloist to hang its episodes together with the kind of quicksilver alternation between pure and dirty modes required by Prokofiev. She went all out, almost but never quite drowned by a punchy, Hollywood orchestration in the hands of the Royal Scottish National Orchestra under Thomas Søndergård. As a vehicle for Benedetti's powers of communication, it could hardly be improved.