Absorbing, passionately engaged playing from full strings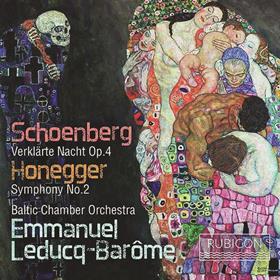 THE STRAD RECOMMENDS
The Strad Issue: October 2019
Description: Absorbing, passionately engaged playing from full strings
Musicians: Baltic Chamber Orchestra/Emmanuel Leducq-Barôme
Works: SCHOENBERG Verklärte Nacht HONEGGER Symphony no.2
Catalogue Number: RUBICON RCD 1043
Nowhere do CD documentation or record company website tell us how many players the Baltic Chamber Orchestra fields on this disc, but the ensemble – an independent sideline for the St Petersburg Philharmonic's principal players – has the weight of a full symphonic string section in this ambient, well-balanced recording. Emmanuel Leducq-Barôme, who founded the orchestra in 2000, leads a sweeping, emotionally charged journey through Schoenberg's Verklärte Nacht. He's not immune to ignoring some of Schoenberg's meticulously indicated tempo fluctuations, and even the odd solo/tutti distinction (this is Schoenberg's revised 1943 expansion of his sextet), and balance – for instance between a piano melody and a ppp accompaniment – is not always ideally judged. But in a performance this absorbingly played, these are merely quibbles.
Honegger's wartime Second Symphony for string orchestra transfigures night in its own different way, charting a route from the darkness of occupation to future freedom, and with its obbligato trumpet chorale leading the charge in the closing bars. Here the playing is, if anything, finer still: pristine ensemble, even in the metrical discordance of the third movement, a real bite to the string sound and a passionate engagement with the work's expressive extremes.
In short, it's the closest any recent exponents have come to rivalling the classic 1969 Karajan/Berlin Philharmonic account, and more vividly recorded too.
MATTHEW RYE