This is an extract from the latest in The Strad's marked-up sheet music series in association with Henle Verlag – featuring Baiba Skride giving bowings, fingerings and ideas for interpretation in our April 2018 issue. Download now on desktop computer or via the The Strad App, or buy the print edition
For me, this has been the most polarising of all concertos. The first time I heard it was in a music class at school and I hated it. I thought, 'What is this? I don't understand it! How can it be one of the greatest concertos?' At that time I was not a fan of modern music in general: I couldn't hear the melodies or the exceptional harmonies, and as a teenager I wasn't open to finding them.
I regret that now, because later on, out of curiosity, I started to practise the Berg and I fell completely in love with it. It took me a little time to understand how the violin fits with the orchestra, and the genius of the amazing themes and polyphonies, but when I did, it completely turned my ideas around. Now I am fascinated by how much information there is in the music, every time I play it.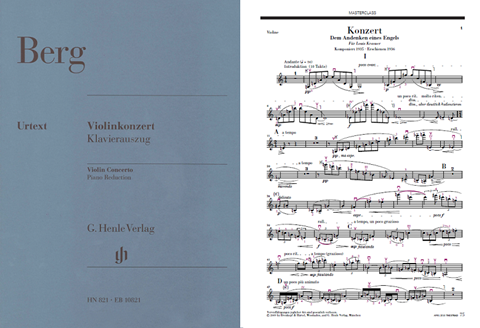 Musical line
Always try to hear this as an emotional piece, without allowing yourself to be thrown into the mathematical nature of the music. It is made up of many shorter elements and themes, so the main challenge is to bring them together as a whole, not only through the first movement but from the beginning to the end of the entire concerto. Berg repeats certain themes many times, so it can be helpful to use these to tie everything together.
He also uses commas – for example in bars 42, 83 and 128 – to show breaths and to indicate that something new is happening. Some players treat the commas as an indication to stop, but this can make the music too divided. Be careful not to lose the overall line. Listen to the piece over and over again: find different recordings and approaches; every time, listen for different instruments in the orchestra to draw yourself more deeply into the music and find all the beautiful melodies.
To read the full Masterclass article by Baiba Skride and see the marked-up sheet music, download The Strad's April 2018 issue on desktop computer or via the The Strad App, or buy the print edition
The concerto was commissioned by violinist Louis Krasner, whose 1936 recording with Berg's friend and colleague Webern conducting, can be heard here (audio only):