An ongoing cycle making a striking case for early Mozart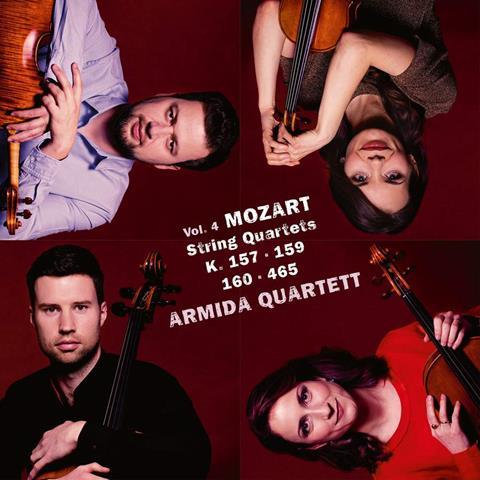 The Strad Issue: May 2022
Description: An ongoing cycle making a striking case for early Mozart
Musicians: Armida Quartet
Works: Mozart: String Quartets vol.4: in C major K157, in B flat major K159, in E flat major K160, in C major K465 'Dissonance
Catalogue number: CAVI-MUSIC 8553205
This is the fourth volume in a complete recording of Mozart's string quartets that has evolved in tandem with a new scholarly edition being published by Henle. As with its predecessors, it juxtaposes works from the composer's precocious teens with a mature composition, in this case the 'Dissonance' Quartet that concludes the set Mozart dedicated to Haydn.
Ten years after winning first prize in the Munich Competition, the Berlin-based Armida Quartet is at the top of its game, and has retained a freshness of approach that befits the youthful Mozart. With crisp articulation and a sophisticated use of vibrato, the players come close to an ideal synthesis of period practice and modern instrumental set-up.
Thanks to the Armida's thoughtful phrasing and transparent playing, the early quartets come across as more than merely promising. Their far from insignificant inner parts are discreetly brought out, and each movement's individual atmosphere is unerringly caught; even an occasional tendency to rush seems to reflect the music's youthful enthusiasm. The Armida savours the name-giving dissonances in the introduction to K465, while the group's observation of the first repeat in the Minuet's da capo is just one sign of the careful consideration that has gone into this project.
CARLOS MARÍA SOLARE