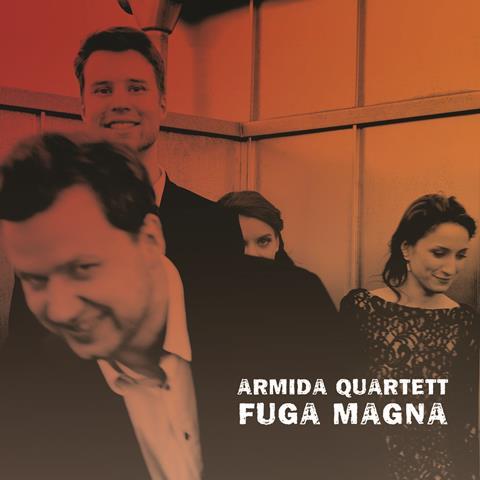 The Strad Issue: November 2017
Description: An imaginative exploration of the art of the fugue
Musicians: Armida Quartet, Raphael Alpermann (harpsichord)
Works: Bach: Contrapunctus I, IV & XI (The Art of Fugue BWV1080), Beethoven: Grosse Fugue in B flat major op.133, Goldberg: Sonata in C minor, Haussmann: Fuga Prima, Fuga Seconda, Scarlatti: Sonata à quattro no.4
Catalogue Number: AVI-MUSIC AVI 8553380
In a provocative booklet note, the violinist-conductor Reinhard Goebel implies that, as a form, fugue had already lost its original freshness and beauty of discourse by the time that Beethoven tore up its conventions once and for all in the Grosse Fuge. Perhaps, if he had listened to this disc, he would have changed his mind. With chameleonic ease, the splendid Armida Quartet adopts the identity of a viol consort for two fugues from the dawn of the 17th century by Valentin Haussmann. The disguise still suits the ensemble in a four-part Sonata by Alessandro Scarlatti and three movements from The Art of Fugue: astringent tone worn well with mellow phrasing across the bar-line.
Raphael Alpermann's harpsichord makes an unobtrusive companion to the quartet in the CD's real discovery, a C minor Trio Sonata by Johann Gottlieb Goldberg (of Goldberg Variations fame). Each of the sonata's four movements is distinguished by its long-term harmonic reach, but the Grave demanded an instant encore, shot through with a chromatic pain to which the final Gigue offers sweet and lively relief.
In Mozart's late C minor Adagio and Fugue, for all the composer's conscious imitation of a monumental Baroque style, I feel that the Armida could usefully have slipped out of the hair shirt. Conversely, the Grosse Fuge responds in kind to an unflinching resolution of purpose, right from the first sotto voce adumbration of the theme through its athletic exposition. There's even a return to a consort-like purity and serenity in the interlude. The studio recording is as bright and lively as the playing.
PETER QUANTRILL