Powerful advocacy of three blues-inspired sonatas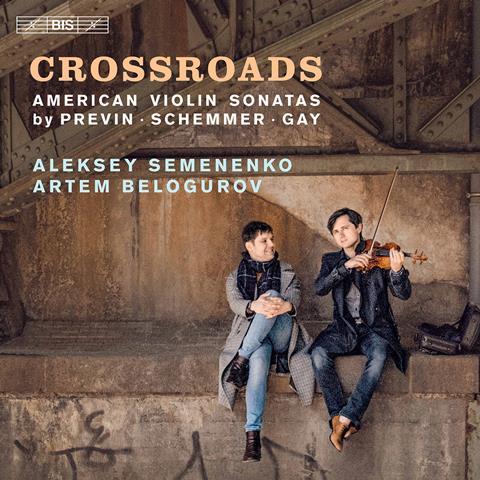 The Strad Issue: April 2022
Description: Powerful advocacy of three blues-inspired sonatas
Musicians: Aleksey Semenenko (violin) Artem Belogurov (piano)
Works: Previn: Violin Sonata no.2. Schemmer: Violin Sonata. Gay: Violin Sonata
Catalogue number: BIS BIS-2545 (HYBRID SACD)
There's plenty of good music still to be written in C major, Arnold Schoenberg famously observed. It's a maxim that the three composers on this enjoyable disc have clearly taken to heart – not in terms of that particular tonality, but in a jazzy, bluesy classical idiom whose own history stretches back a century. It's also an idiom that the young Ukrainian violinist and former BBC Radio 3 New Generation Artist Aleksey Semenenko makes his own here, and one that fits his extrovert, muscular playing like a glove.
André Previn wrote his Second Violin Sonata in 2011 for Anne-Sophie Mutter, who'd been his wife until five years earlier. Semenenko clearly relishes its sophisticated blend of blues and rugged, off-key classical, with vibrato-rich, portamento-laden playing that swoops and sways its way through Previn's Bernstein-esque writing – even if he can't entirely distract from its sense of being a succession of vividly imagined but unrelated episodes.
Tony Schemmer's 1981 work began life as an oboe sonata, and ranges widely in its jazz evocations, from crooning blues in its slow movement, dedicated to the composer's baby son, to the charleston rhythms that interrupt the dashing third movement 'Omaggio a Django'. Despite the work's expansive half-hour length, Semenenko makes a persuasive case in an expertly paced, vividly articulated account that moulds itself convincingly around Schemmer's eclectic influences.
Paul Gay's 1984 Sonata is the most abstract of the three, and the most comfortable embracing dissonance. Semenenko comes into his own in some movingly shaped melodies in its rhapsodic introduction, as well as the exuberant figurations of its dashing toccata. These are warm, heartfelt accounts that showcase Semenenko's considerable technical expertise, given equally distinctive, committed support by pianist Artem Belogurov, and captured in close, generous sound.
DAVID KETTLE