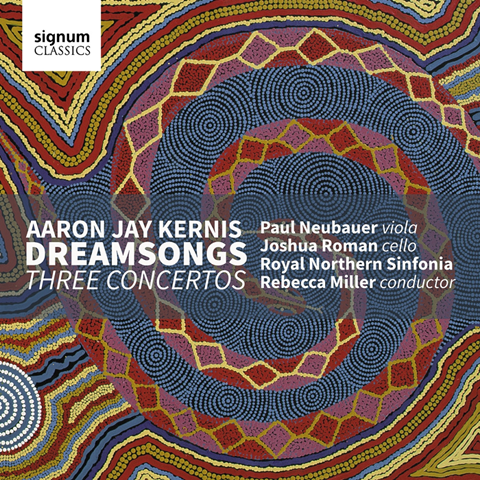 The Strad Issue: June 2018
Description: Attractive contemporary neo-Romanticism for viola and cello
Musicians: Paul Neubauer (viola), Joshua Roman (cello), Aaron Jay Kernis (piano), Royal Northern Sinfonia/Rebecca Miller
Works: KERNIS Dreamsongs; Viola Concerto; Concerto with Echoes. TRAD Tumbalalaika (arr. Kernis). SCHUMANN Fughetta op. 32 no. 4
Catalogue Number: SIGNUM CLASSICS SIGCD524
There's a thread of rhapsodic, lyrical passion running right through this disc bringing together three neo-Romantic concertos by contemporary US composer Aaron Jay Kernis. And it's one that finds ideal counterparts in soloists Paul Neubauer and Joshua Roman – not surprisingly, perhaps, since they're also the dedicatees of two of the works here.
Kernis's 2013 Dreamsongs begins as a restless, aptly dreamlike fantasia, with Roman supplying an intensely focused, flexible solo line, only to end as a gently rippling evocation of west African kora music, its beguiling patterning shared between Roman playing pizzicato, harp and discreet drumming. The cellist responds to Kernis's unpredictable organic development with a persuasive sense of conviction, and there's a real feeling of in-the-moment spontaneity about his beautifully judged cadenzas.
Violist Neubauer gets somewhat more challenging material in Kernis's gnarlier 2014 Viola Concerto, but delivers the first movement's angular, brittle lines with highly characterful, fluid playing, and his gloriously rich yet focused tone really comes into its own in the work's Brahmsian slow movement. His instrument seems to drip with emotion in the beautifully crafted slow finale, based on a Yiddish song and a piano piece by Schumann, both also included on the disc.
Newcastle's Royal Northern Sinfonia under Rebecca Miller delivers sturdy, colourful support in both pieces, and summons a real sense of grit and power for Kernis's intricate 2009 concerto grosso Concerto with Echoes, inspired by Bach's Sixth Brandenburg Concerto. Recorded sound is full and generous, with the two soloists never over-projected against their orchestral backdrop, emerging instead with unforced naturalness.
DAVID KETTLE