In this extract from a candid and wide-ranging interview, the violinist remembers leaving his home town of Brisbane, Australia, at the age of 16 to study at the Curtis Institute of Music in Philadelphia – and immediately feeling out of his depth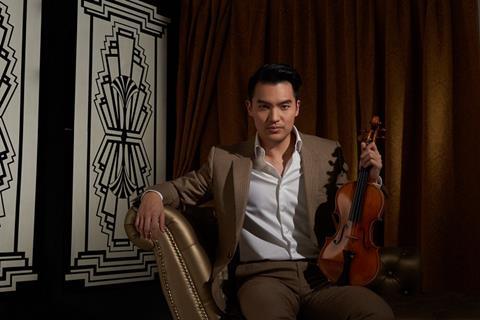 The following is an extract of a longer article in The Strad's May 2018 issue. To read further, download now on desktop computer, via the The Strad App, or buy the print edition
At first his new freedom, away from family and home, seemed exciting – so much so, he confesses, that he stopped practising for a while, until he realised what he was up against. 'It was simply so intimidating at Curtis,' he says. 'Everyone came from being a star in their local area.' Sometimes that 'local area' was Chicago or New York, which left a 'star' from Brisbane feeling like a fizzling spark.
'The first years at Curtis were quite rough for me,' says Chen. 'I remember there was a chamber music reading party in the first week, where we were thrown into this Hunger Games situation.
'Until then I didn't really do chamber music, and I didn't have sightreading experience. I could only learn a piece by listening to it. I mean,' he jokes, 'sightreading's just for people who turn up unprepared for rehearsals, right? Why would I need to know how to do that?'
Two days before the event, Chen checked what they would be playing. The list was long: the Mozart, Haydn and early to mid-Beethoven string quartets, the Ravel, the Debussy and some piano trios. Forty-eight hours later, after attempting to learn the lot, he had decided two things: first, he would only volunteer for second violin parts; secondly, he would avoid everything except Haydn. When the opportunity arose, he jumped at it.
Everything was fine, until he forgot to count. 'There was an open-door policy that day, and there were loads of people there – teachers, students – and I was just swimming. Finally, someone yelled, "Letter B!" But by then I was panicking, I got lost again and until this day I don't remember if we finished the piece or not, because I just went home and cried. I heard people whispering, "How did he get into Curtis?" The first two years there were the darkest of my life.'
More than anything, Chen wanted to prove that he was not a failure. 'I worked three times harder. I was doing competitions throughout that time, and I didn't succeed at any of them. I was in finals here and there, but I never got a place. Luckily, in our biographies we don't write about all the stuff that we try and fail.'
To see the full article, download The Strad's April 2018 issue on desktop computer, via the The Strad App, or buy the print edition
Interview by Pauline Harding