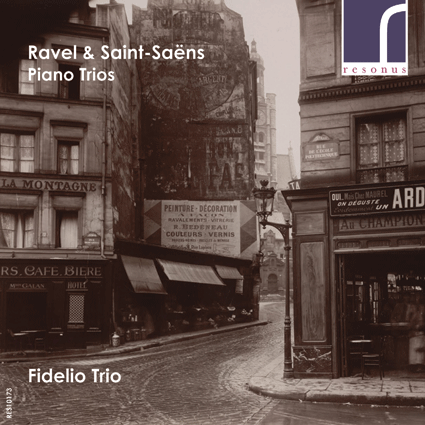 The Strad Issue: January 2017
Description: French piano trios played with confidence and elegance
Musicians: Fidelio Trio
Composer: Ravel, Saint-Saëns
Catalogue number: RESONUS RES 10173
It's sometimes tempting to describe Saint-Saëns's chamber music as offering a mixture of Beethovenian weight and Mendelssohnian lightness, although Nigel Simeone in his excellent note for this release detects in the Second Trio of 1894 more the influence of Tchaikovsky's Piano Trio. Here, though, the Fidelio Trio plays it with such delicacy of touch and suavity of tone that its Frenchness and its closeness to the Ravel coupling are never in doubt.
The string playing in both works is on the light side, perhaps, but elegant and never forced or overburdened with vibrato. Darragh Morgan plays his loaned Gennaro Gagliano violin with a pleasing sweetness and flexibility that is matched by gently plaintive tone from Adi Tal on her (unspecified) cello. Mary Dullea rattles her way through both piano parts' many notes with brilliant fluency and without ever overpowering her colleagues within Resonus's natural and clear sound picture.
Throughout the disc, the players show easy interpretative confidence and surefootedness. Among the many highlights are their touchingly chaste account of the Saint-Saëns's wistful central Andante con moto, the 'noble restraint' (to borrow Simeone's phrase) they capture in the Ravel's Passacaille and the sheer brilliance they bring to both finales. This is a lovely disc.
Hugo Shirley