Aisha Syed Castro examines diverse pieces of repertoire throughout history with central messages of peace and equality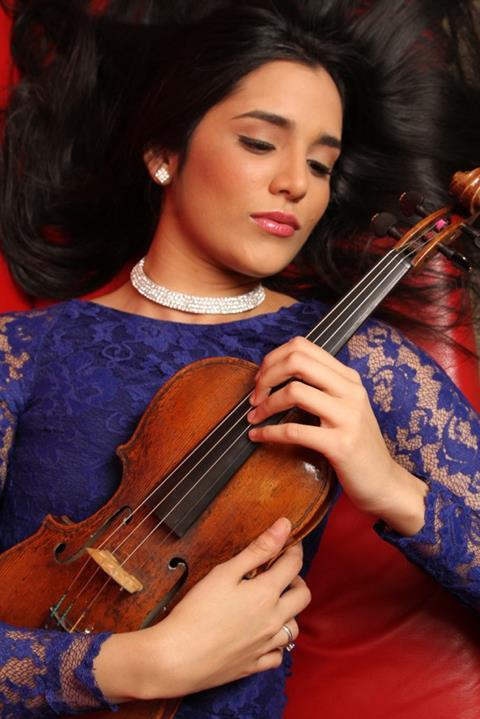 Discover more Featured Stories like this in The Strad Playing Hub
Music is quite something. It cannot be touched, but it can touch us. Neither can music be seen, yet it reveals even our innermost longings, and dreams of becoming and belonging. Music can also heal, rebuke, and draw us to truths that are better played or sung than said. It is in this context in which I will present a concert titled 'Heritage, Concert for Peace' at the Victoria Hall in Geneva, Switzerland. The concert will raise funds for the International Committee of the Red Cross, an organisation whose tremendous work and legacy I deeply admire. In 1901 Henry Dunant, the founder of the Red Cross in Geneva, became the first recipient, along with the French pacifist, Frédéric Passy, of the Nobel peace prize. Such an award serves as a testament of how important peace-making has been for the Red Cross as an organisation.
I've programmed a diverse range of repertoire, including Bach's monumental Chaconne, Coleridge-Taylor's adaptation of Deep River (a negro spiritual), Hebrew Melody adapted by Joseph Achron, and America from Leonard Bernstein's West Side Story. This repertoire seeks to remind us of parts of our past as well as to motivate us to find peace and unity - both now and in the future - through the power of music. For me, as well as many others, J. S. Bach is the epitome of perfection. His Chaconne taken from his Partita no. 2 in D minor for violin solo is, unarguably, the pinnacle of his masterworks. According to Chicago's WFMT writer Stephen Raskauskas, who had access to Bach's personal Bible, the legendary composer highlighted important portions of holy scripture that had to do with music, illustrating the influence of the Christian faith on his work. In the margins of II Chronicles 5:13, which describes how music is a means of worship, Bach wrote 'Where there is devotional music, God, with His grace, is always present.'
Bach strongly believed in what the Bible refers to as 'the peace that surpasses all understanding'. He imbued his music with a sense of transcendence that is well beyond our human discernment; with that force – namely, God - that set everything into being with a specific purpose in the order of creation. This is illustrated in the Chaconne, which he wrote after finding out his wife had died while he was travelling for work. Life and death are almost palpable in this movement.
Joseph Achron's adaptation of Hebrew Melody is connected to the theme of life and death present in the Chaconne. So much so that the last few words of the piece itself are the following:
'And the flooding tears, the ancient groan
Welling upward reach to Heaven's throne,
Where the Lord of earth and sky
Harks to that exceeding bitter cry'
This song is sung at synagogues, almost like a desperate prayer for God to liberate His people from their woes. The piece also serves as a reminder of past worldwide events that mirror some of what unfortunately goes on in parts of the world even today.
I have a strong affinity with Samuel Coleridge-Taylor for various reasons. Coming from the Caribbean where part of our ethnicity is Black and having studied at the Royal College of Music in London as Coleridge-Taylor also did, his music resonates with the very fibre of my intrinsic identity. Whereas Deep River was composed in 1904, its central message is still relevant today even as it reminds us of a past that humanity at large ought to be ashamed of. The spiritual reads as follows:
'Deep river, my home is over Jordan; Deep river, Lord, I want to cross over into campground.
Oh don't you want to go to that gospel feast, that Promised Land where all is peace?
Deep river, Lord, I want to cross over into campground'
America from Leonard Bernstein's West Side Story is a cheeky, yet entertaining piece in a strong and virtuosic arrangement by Enrique Penaforte. Some of the words that stand out to me from its original version are the following:
'Lots of new housing with more space
(Lots of doors slamming in our face)
I'll get a terrace apartment
Better you get rid of your accent
Life can be bright in America
If you can fight in America
Life is all right in America
If you're all white in America
America
Here you are free and you have pride
Long as you stay on your own side'
When I perform this piece it feels as if I make a subtle yet poignant protest without word. Just with my fingers, bow, and strings uttering sounds that are carried through the wind; uttering truths that sting; a sting that needs to be reckoned with and does not go away with the wind for music speaks and convicts in ways not even words can.
Por Amor by Dominican composer Rafael Solano talks about how many important and significant events in the world take and have taken place because of love. And it is that labour of love that ultimately leads us to experience unity and peace to a certain degree on this earth until we reach that heavenly place our composers Bach, Achron and Coleridge -Taylor long for and point to in their music. They believed in the power of music and, thus, used it as a means to bring forth their strong message and narrative.
It is an honour for me to contribute to the tireless work of the Red Cross with our debut at the remarkable Victoria Hall in Switzerland with music that has spoken personally to me and will hopefully do the same to the audience at the concert on 11 October. This concert is being supported by the City of Geneva and organised by the Dominican Mission at the United Nations headquartered in Geneva.
The works covered in the article feature in Aisha's album Heritage. Listen to extracts here. Aisha will perform at St Mary le Strand on 13 October.