The viola d'amore is undergoing a resurgence in popularity among early music groups, with a wealth of repertoire still to be rediscovered. Rachael Durkin tracks the development of this unique instrument, examining its many precursors along the way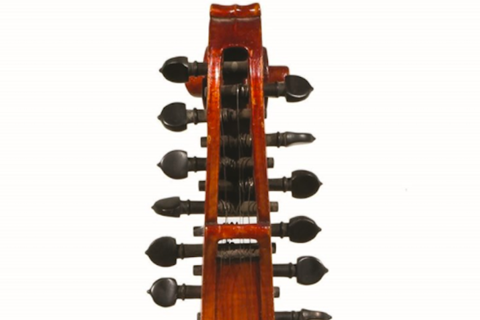 The following is an extract from an article on the origin of the viola d'amore in The Strad's December 2020 issue. To read in full, click here to subscribe and login. The December 2020 digital magazine and print edition are on sale now.
Our journey starts as far back as 16th-century England and the reign of Elizabeth I. In a relatively stable period of English history, the country became an exciting hub for organological innovation, particularly concerning instruments with plucked or bowed wire strings instead of gut. The enthusiasm for wire strings can be pinned to the import and adoption of the Italian cittern: a small plucked and fretted instrument strung with four or more courses (pairs of strings), and re-entrantly tuned similar to the modern ukelele. Wire strings were now used on instruments other than keyboards and harps, most significantly leading to the English invention of the bandora by John Rose the elder. The orpharion was also likely developed on English shores, although concrete evidence of this has yet to be identified. Both of these instruments are flat-backed, fretted and plucked, and became very popular in northern European countries.
Read: the viola d'amore: For a sympathetic ear
It was in 1605 that the architect Inigo Jones returned from Italy with the theorbo: a type of lute with an extended bass range of single diapason strings. The theorbo's expanded range and size quickly inspired further developments, such as Thomas Robinson's 14-course citharen – essentially a type of cittern with additional bass diapason strings like the theorbo – of which no example is known to survive. The arrival of the Italian theorbo, like its smaller cousin the cittern, served as the foundation for notable experimentation with instrument design. While the cittern had inspired the use of wire strings on instruments other than keyboards and harps, the theorbo demonstrated the benefits of increased range and the ability of musicians to wield such cumbersome and complex instruments successfully.
This article was published in the December 2020 'Willemotte' Stradivari issue

The late-period violin's strong personality is the perfect match for its current owner Leonidas Kavakos. Explore all the articles in this issue. Explore all the articles in this issue

More from this issue…