In our December 2021 issue, Stephen Street examines early influences on the virtuoso bass player, composer and conductor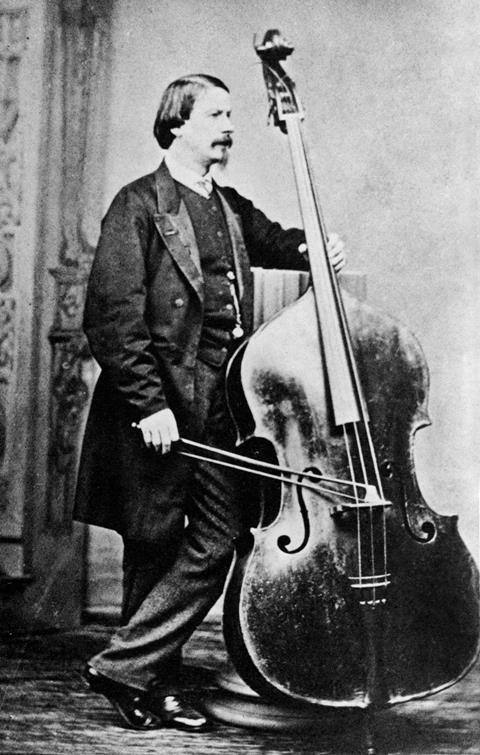 The following extract is from The Strad's December 2021 issue feature 'Bottesini's 200th anniversary: The world at his feet'. To read it in full, click here to subscribe and login. The December 2021 digital magazine and print edition are on sale now
A life in music
Bottesini grew up surrounded by musicians and immersed in music. His father, Pietro, a clarinettist and composer, undoubtedly exerted a strong influence on his early development. However, his greatest early mentor was Carlo Cogliati, a musician renowned for revolutionising the music scene in Bottesini's home town of Crema by transforming local orchestras and teaching many developing musicians. Cogliati started teaching Bottesini the violin from the age of four, claiming (in an interview with Giovanni Solera) that he 'never had a more intelligent pupil', and Bottesini stayed under his mentorship until his death in 1833. Bottesini also sang solos in the church choir, played the kettledrums and spent time studying the piano. After Cogliati's death, Bottesini's father sought a place for him at the Milan Conservatoire. However, of the available scholarships, the only one Bottesini would accept was for the double bass, and it is said that at the age of 14, after only four lessons on the instrument, he secured his place. In an 1887 newspaper interview he recalled remarking to the examiners in his audition, 'When I know where to place my fingers I should play out of tune no more.'
The many years spent learning the violin allowed Bottesini to transfer quickly to the double bass, bringing with him techniques he subsequently used to revolutionise the playing of it. He excelled in his studies, completing them three years earlier than expected, 'not because I thought I had mastered my instrument, but because I wished to have leisure to devote myself more to composition', he claimed in 1887.
An expanding worldwide transport network allowed Bottesini to become one of the first touring musicians, quickly propelling him to celebrity status. His performances transformed the public's perception of the double bass, bringing it to the front of the stage and leaving queues of admirers wanting to see him play. His tours, life and works have been documented in Chris West's new biography, The Paganini of the Double Bass: Bottesini in Britain (2021, reviewed last issue).
Images of Bottesini show a pale man with a striking moustache. Contemporary accounts describe how he used to half-close his 'small grey eyes' while playing, as if conjuring the next phrase. Then, when finishing a difficult passage, he would open his eyes in a flash – with a trademark smile delighting his loyal audiences. Off stage, he was more introverted, yet approachable, and delighted in telling tales of his extensive travels. He married twice, though stories abound of a more complicated romantic life than that might suggest.
Bottesini's constant companion was his 1716 Carlo Antonio Testore double bass, which he affectionately referred to as 'my baby'. Bottesini discovered the instrument in a marionette theatre, covered in cobwebs, having been left there by its previous owner. He was so captivated by its beautiful sound that he would practise late into the evening, often forgetting to eat. Bottesini purchased the bass thanks to a gift from the Milan Conservatoire and money borrowed from a relative, and it quickly became synonymous with him, eventually becoming the most famous double bass in history.
Read: Book review: The Paganini of the Double Bass: Bottesini in Britain
Read: Bottesini's 200th anniversary: The world at his feet
Read: The Venetian double bass: Venetian splendour
Listen: The Strad Podcast Episode #21: Leon Bosch on Bottesini
This article was published in the December 2021 'Double Basses of Venice' issue

The north Italian city-state produced some of the country's finest instruments . Explore all the articles in this issue

More from this issue…