In this extract from her cover feature interview for our November 2019 issue, the violinist tells Strad editor Charlotte Smith about her growing desire to take on passion projects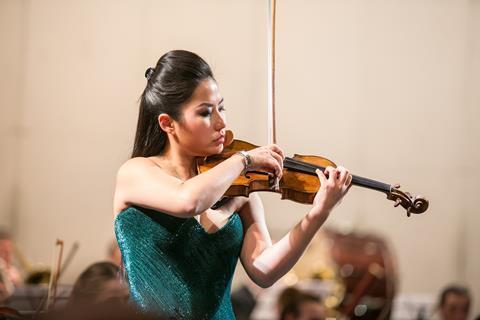 'As a young violinist I wanted to play Brahms so much, but this wasn't allowed until I was more mature. He was like forbidden fruit.' Sarah Chang is speaking to me at a café down the road from London's Cadogan Hall on the eve of a rare recital appearance in which she will play sonatas by Bartók, Franck and her beloved Brahms with regular duo pianist Ashley Wass.
'I learnt the Brahms Concerto when I was around eight or nine, but nobody would programme it, as no one wants to see an eight-year-old playing Brahms! So instead I did a whole bunch of Paganini, Tchaikovsky and Sibelius.'
Even now, almost 30 years since her professional debut, she refers several times to the 'expectation' of concert promoters that she continue performing the standard concerto repertoire. Of the recital that brings her to London, she enthuses, 'This is a real treat for me, because I rarely get to do a recital! The concerto repertoire is what I grew up with, so that's the way my schedule has always been structured.'
Her schedule is certainly formidable and clearly only possible by living a highly ordered and disciplined life – evident in everything from a practice regime that still includes rigorous scales and arpeggios on a daily basis, to her glamorous, not-a-hair-out-of-place persona, both on and off stage.
'I still love the performance and rehearsal aspect of what I do,' she explains, 'as every week I'll be working with a different conductor and a different group of musicians.' She pauses. 'What I don't love any more is the endless flying and the airports and, frankly, missing family life back home.
'When you're starting out and you're in total high gear, every decision you make is about your career. After 20 or 30 years you have to sit back and think of the personal – family and friendships and memories that help you grow as a person.'
To read the full interview with Sarah Chang, on passion projects, chamber and contemporary collaborations, her early mentor Isaac Stern and the Guarneri 'Del Gesù' she has played since she was 14, click here to log in or subscribe
The digital magazine and print edition are on sale now