Violinist Harriet Mackenzie reflects on a busy summer of commissioned projects influenced by nature, special locations and personal collaborations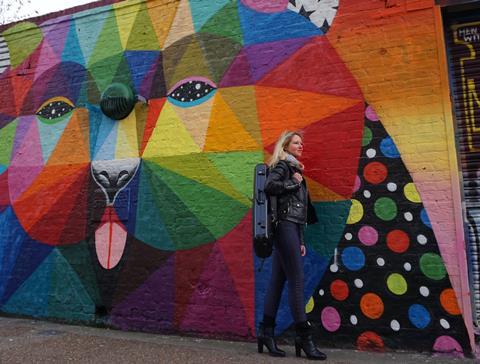 It is such a privilege to have the chance to work with composers and to have pieces written for you. This summer is a relative hive of activity with enormous amounts of notes to be learnt, understood and internalised. Behind every premiere there is not only frantic practising, rehearsing and often - if one is lucky - a real collaboration and communication with the composer, but also the practical elements and bureaucracy, raising monies for the commission, getting the interest of orchestras and festivals. I feel extremely privileged to be expanding the repertoire with three very different works with three different composers and each one very much representing nature, a sense of place and identity.
I feel extremely privileged to be expanding the repertoire with three very different works with three different composers and each one very much representing nature, a sense of place and identity.
As associate artist at Salisbury International Festival this year, one of the big projects which I suggested and I was delighted they commissioned was a violin concerto by the jazz legend, pianist & broadcaster Julian Joseph. Julian is a phenomenal jazz musician and I believe his musical language is something totally unique. There are challenges in that the finger patterns, scales and rhythms are quite different to anything I have played before. It is inspired by the island where his Father was born – Kayryouacou.
Kayryouacou is the original Carib name of the 13 by 13 mile island in the Grenadines now called Carriacou. It's a small island closely connected in geography to St Vincent and Grenada with a history that connects it to Africa, France, Germany and the UK. The idea of rhythm and the culture of dance, music and shipbuilding that trained and drew craftsmen to its shores connects this relatively unknown land to communities across the Caribbean and to us here in the UK & Europe. I love the way that music can connect us with other places and other cultures, firing our imaginations and connecting us with people and histories thousands of miles away.
As Julian writes 'The richness of this Island, its history and its stories are a jumping off point to connect to the practical heritages of Harriet and I both coming from the UK with her deep relationship in the chosen presence, reality and culture of the Greek Islands birthed from the history of my own lineage emanating from "Kayryouacou"! Islands are precious places of family, history and geography but even more importantly of mind, heart, spirit, soul and human connection.'
I was on a Greek island during lockdown, with which I have a long and deep association. The first movement ' Lullaby of the Sea' contains swirling melodies, complex harmonies and counter-melodies, but with an over-arching form and beautiful sing-able melodies. The music seems to suggest rhythmic but organic pulsing of the sea, never settling down and a glorious sense of freedom.
The second movement 'Green and Oleander' somewhat made my dream of being a blues singer come true, though I was singing through my violin rather than actually using my voice. We revel in rich harmonies and a beautiful melody. Amazingly, Oleander is one of the few things I've been able to grow in the, dry dusty earth where we are in Greece, so the different islands were connected by this plant.
The third movement 'The People and the Drum' is inspired by the Big Drum - a genre and musical instrument still relevant on the Island today and all over the Windward Islands. The rhythms were challenging to us all but toe-tapping and satisfyingly intellectual. We had to get our groove on!
Christopher Gunning's concerto was entirely different - I know Christopher's language well as I recorded his first violin concerto with the RPO. I was delighted when he wanted to write Violin Concerto no.2 for me! I feel Christopher's music is directly descended from the English Pastoral tradition - a direct line from Elgar and Vaughan Williams to his pen – an unashamedly lyrical celebration of the landscape of the UK. It's instantly accessible, warmly melodic yet never trite or cloying. Christopher writes:
'The new concerto employs a small orchestra of string players only. It is strongly influenced by sea sounds, mostly what one may hear when standing near the water's edge, with the wind in your hair. Although mostly gentle, occasionally the music becomes more turbulent or even strident - which of us has never experienced the force of waves when the wind becomes stronger and veers towards a storm? Perhaps this is why the sea, in all its moods, has so often been a source of inspiration to composers through the centuries.
'In days gone by, I used to sail my 32-foot sailing vessel across the English Channel to France and the Channel Islands; it was sometimes scary too, and although we managed to get home eventually, these were experiences I was later to write about when composing sea pieces! I love the sea, and everything about the sea! And I love Harriet's violin playing too, Thus, there is an obvious connection - I can't think of a violin concerto expressing the sea without Harriet playing it!'
The third work was a collaboration with Bath Philharmonia, their conductor Jason Thornton and Sarum Academy - a school in Wiltshire. With the help of some inspiring workshop leaders, the young students from Sarum Academy composed a piece which was orchestrated by Bath Philharmonia and I had the chance to work with them too and improvise a line over the top. The final piece was performed as part of a bigger programme in the glorious setting of Salisbury Cathedral. This was such an ambitious project - many of the students hadn't had the chance to play an instrument before at all and yet everyone was playing an instrument (drums, keyboards - despite the fact none of them had played the piano before), glockenspiels, hand-bells, Indian bells, 3 violinists who had just started, a trumpet…). I didn't believe it was going to be possible to create something with such forces and with so little musical experience.
I'm happy to say that I was proved wrong. Everyone was contributing to the musical ideas of the piece and it was a moving an uplifting work. The piece was called 'Heath' and it was a tone poem about the place where they live, giving the students a sense of pride about where they come from. I was delighted to have the freedom to create a line and compose something which fitted and (hopefully) enhanced what they had come up with and I was genuinely inspired by this brilliant, interactive project with young people. The concert was an enormous success with parents and loved ones in the audience crying with pride and happiness. I have done a lot of outreach work, but this concert has to be a highlight of everything that I have done in that field. It was totally uplifting.
Three totally different works created and performed this summer. All were challenging in different ways and I feel have helped me to grow as a musician. I feel so lucky to be working with such wonderful and inspiring collaborators and I can't wait for the next project.
Julian Joseph's Violin Concerto was performed at the Salisbury International Festival 2022, St Thomas Church with Harriet Mackenzie and 12 Ensemble, 14 June.
Christopher Gunning's Violin Concerto had each movement premiered at a different festival: The Jersey Liberation Festival with Harriet Mackenzie, the Jersey Chamber Orchestra and conductor Eamonn Dougan on 14 May 2022
Salisbury International Festival with Harriet Mackenzie, Bournemouth Symphony Orchestra and conductor Mark Wigglesworth
First Light Festival Lowestoft with the First Light Ensemble Directed by Harriet Mackenzie (in the end this performance was cancelled as there was a freak storm and is yet to be premiered!)
'Heath' was created and performed by Harriet Mackenzie, Bath Philharmonia, conductor Jason Thornton and students from Sarum Academy on 9 June at Salisbury Cathedral as part of Salisbury International Festival.