Composer Noah Max writes about exploring Jewish liturgical music through string composition in his new opera A Child In Striped Pyjamas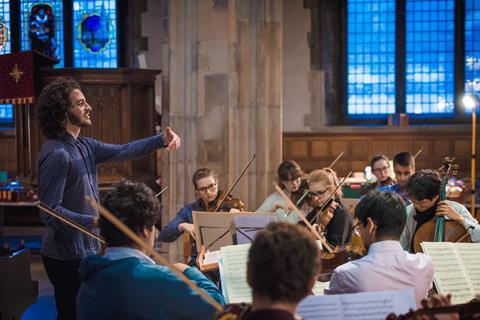 Discover more Featured Stories like this in The Strad Playing Hub
John Boyne's The Boy in the Striped Pyjamas has sold a phenomenal 11 million copies since it was first published in 2006. It was adapted into a film in 2008, a play in 2015 and a ballet in 2017. The world premiere production of my chamber opera A Child In Striped Pyjamas scored for four singers, string quartet, trumpet and clarinet will take place in January 2023.
The book's simple premise and powerful climax are well-known even by those who have not previously encountered the story. That haunting central image, described in the author's own words as 'two boys, the mirror image of one another, sitting either side of a wire fence' has become an important part of our culture. Boyne's story is a symbolic exploration of one of the reasons why the Holocaust remains so traumatic: it demonstrates the relentlessly organised barbarity of which humanity is capable.
Allegorical tragedies lend themselves to that heightened emotional state which opera can achieve. My mentor John Whitfield spent his final weeks imploring me to explore Jewish identity and Judaism's tragic history, particularly the Holocaust, through my music. The late Chief Rabbi Lord Jonathan Sacks described Judaism as 'a beautiful song… scored for many voices interwoven in complex harmonies'. This is why I felt compelled to create an operatic adaptation of Boyne's story.
While A Child In Striped Pyjamas is definitely an opera, during its composition I saw it as a work of chamber music. From the youngest age, playing chamber music was among my greatest passions. It taught me how to collaborate and how to listen. Many of my current Echo Ensemble colleagues began as members of my chamber music circle. The inquisitive, collegiate spirit of chamber music lies at the heart of every piece I write, every concert I conduct and every project I curate. In this piece the string quartet is the bedrock of the ensemble, underpinning the opera's emotional core. The textures and characters which the strings create find their roots in some of the great quartets I discovered while growing up.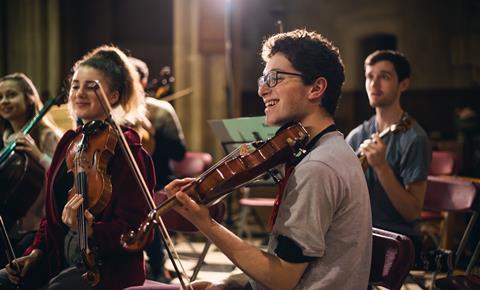 Another crucial ingredient in the sound-world of this opera is Jewish liturgical music. I came to know this repertoire, almost completely unknown outside Jewish circles and rarely heard in concert, through singing in a Synagogue choir on Rosh Hashannah (New Year) and Yom Kippur (Day of Atonement) throughout my teenage years. The pieces are often choral embellishments of a cantorial solo line for the purpose of communal worship. There are key moments in A Child In Striped Pyjamas where the texture passes through monophony and out of it again, or where a prayer-like call-and-response gesture is employed. For example, the opera opens with a cantor's song to which the congregation offer a reply. Though the majority of the work is in English, these prayers remain in Hebrew; the very first word of the piece, the Hebrew word shema meaning listen, is integral both to music-making and to practising Judaism.
The piece is written in a broadly tonal language. However, as the story gets darker the music becomes increasingly angular. There are moments when the score places unusual demands on the string players. Each member of the quartet must pluck or whisper while playing with the bow, vary the speed of a tremolo while holding a fragile natural harmonic or create a sense of flowing line through an extended scurrying section - all while nurturing the growing tension at the centre of the drama. I have noticed that my most meaningful performing experiences always push me beyond what I thought were the limits of my capability: therefore, these challenges are designed to be enlivening for the players rather than daunting. After five years spent bringing this opera to the stage, I am excited to undertake these challenges with my Echo Ensemble family and delighted that we can perform this piece for you.
A Child in Striped Pyjamas will premiere on Wednesday 11 and Thursday 12 January 2023 at the Cockpit Theatre, London. Early bird discounts are available now. More information can be found here.