Violinists and YouTube comedy stars Brett Yang and Eddy Chen of TwoSet Violin speak to Kimon Daltas about competition in classical music and the importance of practice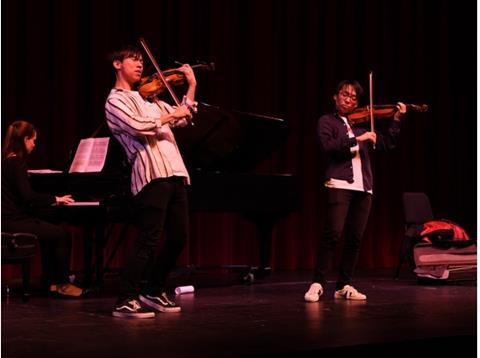 The following is an extract from The Strad's August 2020 issue profiling YouTube comedy duo TwoSet Violin. To read in full, click here to subscribe and login.The August 2020 digital magazine and print edition are on sale now.
Stars who have gamely joined in with TwoSet Violin over the years include Hilary Hahn, Ray Chen, James Ehnes, Janine Jansen, Lang Lang, Anne Akiko Meyers and Maxim Vengerov. The duo has also tried out some of the finest violins available – in one instance comparing seven Stradivaris in one sitting. They are making any young violinist's dreams come true, yet somehow entirely on their own terms. And what seems to be the core of their charm is that, however silly the silliness gets, they are never not serious about the violin, and the talent and hard work it takes to master it – if mastering is even an attainable goal.
Of all recurring topics in TwoSet Violin's videos, practice looms the largest. In fact, if you visit TwoSetViolin.com, before you can enter you get a pop-up asking, 'Have you practised today?' – click 'No', and it bounces you to a page with the simple message: 'Go practise.'
'One thing I'm grateful for is the amount of practice I did while growing up,' says Brett. 'Full stop. If you ask me if I'd do it again, I'd say yes, plus even more. I think that's something we believe in almost religiously – practising as a musician. Everything we do is based on that.' Eddy adds: 'What we do today wouldn't make sense if we couldn't play the violin.' This attitude whereby 'there is no such thing as too much practice' is embodied in one of their recurring characters, Ling Ling – a sort of violin supervillain who practises for 40 hours a day. 'That's not a joke,' deadpans Brett. 'That's completely realistic.'
Another frequent topic is young prodigies. One of their most popular video formats involves them watching and reacting to a performance by the latest tiny genius galloping through a Paganini showpiece on a half-size violin. It cuts to a core part of the experience of being a classical musician: the fact that, however hard you work, there is always someone who is inexplicably a much better player than you.
'When I was 15,' says Brett, 'and saw someone playing really well at 18, in my mind I'd think, "I still have three more years." But now it's the opposite. Now, it's as if I've lost ten years.'
But what they're keen to emphasise is what true talent and hard work can bring. Somewhere along the line, they picked up the catchphrase, 'geniuses are born not created', to which they refer mockingly, as it captures the daytime TV attitude to prodigies. They can see the hours of practice behind a nine-year-old's Paganini caprice.
This article was published in the August 2020 TwoSet Violin issue

The YouTube comedy duo discuss graduating from viral videos to sold-out stage shows. Explore all the articles in this issue.

More from this issue…