The Strad's editor Charlotte Smith introduces the October 2020 issue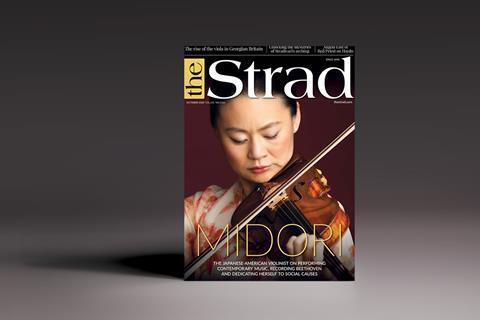 It's not often that a leading performer re-enrols as a student at the height of a brilliant career – particularly in a subject so far removed from their primary artistic focus. But, 20 years after her professional debut as a child prodigy, Japanese–American artist Midori did precisely that. An initial bachelor's degree in psychology at New York University was followed by a master's in 2005 – and rather than drawing the violinist away from her core musical mission, her studies enriched her understanding of everything from performing and interpretation to the motivations of her own pupils, thus enabling her to find the focus necessary to take full ownership of her vocation. These days Midori is inspired most by connecting to people from all walks of life through her community engagement initiatives, and, as she tells Toby Deller on page 24, she is proud that her music making serves as such a uniting force.
Another of Midori's passions is the discovery of new and obscure pieces, which form the basis of her contemporary immersion projects. Bringing to light neglected works of the past is the mission of period violinist Johannes Pramsohler and his Ensemble Diderot, whose four-album 'cities' series features little-known Baroque compositions. The group believes that performing music time and again by the same household names will lead to classical music's demise. The antidote is variety, and on page 32 Pwyll ap Siôn finds himself utterly convinced of the quality of the composers the project serves to highlight.
As Covid-19 continues to dominate our lives, we turn on page 38 to the pandemic's effect on luthiers. While the often-solitary nature of instrument making has meant that many in our industry have continued to work during this period, scarce playing opportunities for musicians have inevitably had knock-on effects for the trade. Yet, as various makers tell Peter Somerford, the world of lutherie is a resilient one – capable throughout the centuries of withstanding war, plague and economic hardship. If history is anything to go by, the crisis of 2020 will be no different.
Charlotte Smith editor
Email me at thestrad@thestrad.com or tweet @TheStradMag