The Strad's editor Charlotte Smith introduces the March 2021 issue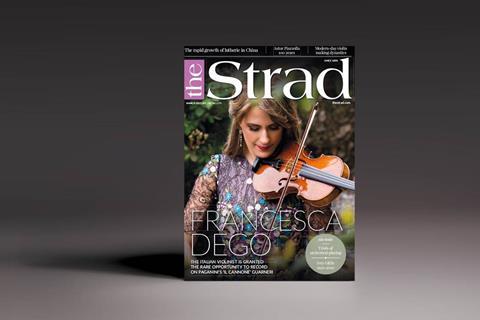 It's not every day that a violin – even one as rare and precious as a Stradivari or Guarneri – is afforded its own security guards. But 'Il Cannone' is not an ordinary instrument. Once the pride and joy of Nicolò Paganini, the 1743 'del Gesù' was bequeathed in his will to the city of Genoa on condition that it be 'perpetually conserved'. Throughout the years the town has taken that directive extremely seriously, and although the violin has been loaned under strict guidance to numerous performers since Paganini's death, in recent times it has rarely left the confines of its glass cabinet. That Francesca Dego was permitted to record her latest album for Chandos on the instrument is therefore something of a coup – and the culmination of a lifelong dream for the Italian violinist. On page 26 she shares the rather surreal experience with Tom Stewart, and describes a still-powerful violin with several fascinating idiosyncrasies.
A musician of equally distinctive appeal was the great Ivry Gitlis, who died in his Paris home at the age of 98 on Christmas Eve. Always a maverick, the violinist had a playing style that could never be described as boring, and thus divided his critics. But at heart, he was a consummate artist, as capable of giving magnificent performances of Berg and Sibelius concertos as lending his charisma to the silver screen. Tully Potter examines his legacy through various recordings on page 22.
Elsewhere, this issue explores two very different methods of violin making – from the assembly lines of craftspeople in China's Pinggu, Queshan and Huangqiao regions (page 48) to the carefully preserved techniques, passed from one generation to the next, of today's lutherie families (page 34). Both are equally relevant to an industry that values tradition, but must meet modern demands – and their coexistence is testament to the violin trade's flexibility and openness.
Charlotte Smith editor
Email me at thestrad@thestrad.com or tweet @TheStradMag