The Strad's editor Charlotte Smith introduces the January 2022 issue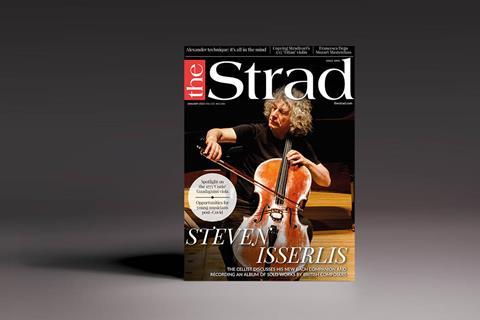 Without question, lockdowns have presented multiple challenges for musicians during the pandemic, not least by severely curtailing opportunities for collaborative projects. British cellist Steven Isserlis is one of numerous string players who turned to solo Bach as a necessary comfort during 2020 and 2021 – but rather than making a follow-up recording to his 2007 Suites for Hyperion, he penned a companion to the works. Packed with information and advice for professionals and novices alike, the pocket-sized volume represents everything that has made the much-loved performer a household name during the past four decades: a deep affection for the music and seriousness of scholarship, delivered with wit and insight. On page 28 I speak to Isserlis about this and other projects that defined his lockdown experience.
If more established artists have navigated the pandemic's difficulties relatively unscathed, the story has been quite different for many young musicians, whose career momentum was stalled back in March 2020. On page 60, as we mark two years since the arrival of Covid-19, Charlotte Gardner speaks to representatives from labels and young artist schemes who responded to the crisis with extra opportunities, funding and guidance. And despite the recent hardships, prospects for those entering the profession are now returning, as highlighted by Clare Taylor of the City Music Foundation: 'If you've got the energy and a few good ideas, then this is the moment to be noticed.'
Such was the case for G.B. Guadagnini, who in his later years came to the attention of the prominent violin collector Count Cozio di Salabue. A commission for numerous instruments followed and with it a regular income, allowing Guadagnini the freedom to experiment with sound and design for a short time. This is particularly evident in his 'Cozio' viola of 1773 – the subject of this month's poster for subscribers. On page 38 Alberto Giordano examines the instrument in depth, while Barthelemy Garnier delves into its method of interior construction.
Charlotte Smith editor
Email me at thestrad@thestrad.com or tweet @TheStradMag