When the first lockdown hit in March 2020, composer-cellist Colin Alexander was finally inspired to write multi-layered solo music for his own instrument - something he had never tried before, as he explains here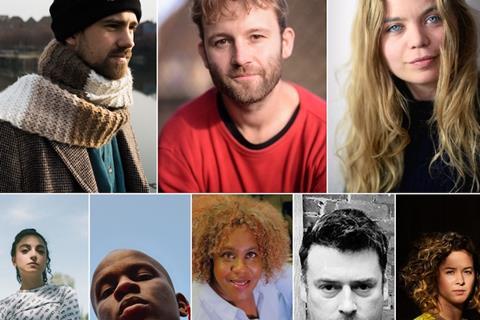 It was March 2020 and I had just finished a day of recording Schoenberg's Verklärte Nacht at Fairfield Halls with the BBC Symphony Orchestra. I left to return to my home in Deal, Kent with the expectation of an early start the next morning, a train-ride back to London and the beginning of a new project with the same orchestra. Before I made it home, I received a text from the orchestral manager with a message amounting to 'all projects cancelled until further notice.' And that was that! I was locked-down in a small cottage by the sea with my collection of instruments and a feeling of bewilderment and trepidation. One thing soon became clear; with no colleagues to play alongside, it was time to learn how to accompany myself.
Having spent almost my whole life attempting to balance my ambitions to be both a cellist and a composer, I had never actually written any solo cello music. What had I been doing for all those years?! Well now was my chance. I had no one else to make music with, more time on my hands than I'd had since I was a baby, a very real need to be occupied with something other than the apocalyptic news and if I couldn't feel inspired with the sea on my doorstep then maybe I wasn't much of a composer after all!
To be honest, I had done a fair amount of solo improvisation over the years – most hilariously when a composer, whom I won't mention, had written a work for cello and electronics that they asked me to perform with them in Peckham in 2019. They would control drones and ghostly whirrings via some amazing (and complicated) analogue equipment whilst I would provide some yearning cello lines above. Rehearsals went well. Time to perform this mesmerising work. Cue twenty-five minutes of zero electronic sounds, whispered cursing and frantic re-wiring efforts in front of a perplexed crowd whilst I attempted to keep them amused with all sorts of stringy noises and modernistic gestures – with some help from a very able and nimble-fingered sound engineer. I somewhat ran out of steam after fifteen minutes of meandering slides and overtones and so turned to see how my colleague was getting on with their jungled mass of leads and blinking LEDs; a disaster! They were covered in sweat and simply stagewhispered 'carry on'. Really? I'm afraid I was ready to move on to the next thing in my diary but was suddenly buoyed by a cry of 'MORE CELLOOOO' from this most patient of audiences. They were clearly in the palm of my hand! Well, possibly not, but I did indeed carry on, no one left, we did finally perform the programmed work, and left the stage to a heady combination of hearty applause and gentle laughter. Time for that backstage eureka moment: I had accidentally demonstrated to myself that, if I could hold the attention of these listeners with solo music that involved absolutely no preparation, I should probably now engage more seriously with this simple but effective way to entertain people.
And so there I was, spring 2020, alone with my cellos (a long story) and with the time and space to rekindle and refine those fleeting, flailing flourishes that had spared my blushes in Peckham. I'm fortunate enough to own two spare student-level cellos, which I keep tuned differently to the standard intervals, and use for my performances with a group called 'Addelam'.
I find that playing a cello that is retuned is incredibly liberating and allows one to explore a great variety of new combinations of doublestops and harmonics. I really did get up first thing in the mornings and just start playing away with complete freedom and in such a way that I had probably not enjoyed since I was a large baby: no scales, no gruelling studies and definitely no Haydn D.
Read Jennifer Pike on performing during the pandemic
Read How we maintained a chamber music career in lockdown – the Carducci Quartet
Read The Pandemic Paganini Project: how I decided to fill in the blanks of 2020
The ideas that came from these morning improv sessions were spontaneous and exciting but there did come the inevitable task of creating something worth listening to. So, back to some careful practice in order to find ways to crystallise those rich and sonorous overtone-producing double-stops that give the impression of a trio or quartet, bouncing bow techniques that draw strange and beautiful harmonics singing from the belly of the instrument, string-crossing patterns that mimic a piano in their fluidity, combinations of sneaky left-hand tricks with flautando bow movements producing illusionary layers of sound and refining continuous ricochets to allow melodic phrases to spin on and on, lightly as a floating feather.
Ideas old and new, entangled with a revived fascination for how enjoyable and pleasing subtle harmonies and delicate timbres can be, meant that in a flash I had a small portfolio of solo works at my fingertips.
Yes, it was all in the name of finding a way to accompany myself on a single instrument but it became much more about falling more deeply in love with the sounds emerging from this wooden box, enjoying the miraculous nature of these vibrations in the air created by even the slightest of my physical movements and cherishing the privilege of having been taught to play the cello; the instrument I have been lucky enough to play for all these years.
And now, in the warm and generous acoustic of St John's Smith Square on the 3 July, I will finally have the opportunity to perform some of these new pieces to a live audience. But, believe me, having played these works repeatedly at home in my small music room, no one will be enjoying the sonorous surroundings more than me. With my colleagues Héloïse Werner and Kit Downes, who will perform their own collection of solo works written during this recent time, we have been creating music together throughout the last year by remote-recording from our home studios. Whilst this has of course been incredibly rewarding, there really is no substitute for performing together in situ. An evening of spatially-distanced new trio works for organ, voice and cello by Errollyn Wallen, Shiva Feshareki, Jonathan Cole, Jasmin Kent Rodgman and Love Ssega alongside our own solo works and short trio improvisations is now, after all this time, just around the corner.
Colin Alexander performs at St John's Smith Square on 3 July 2021 with organist Kit Downes and and soprano Héloïse Werner, in a concert featuring some improvisations from each performer and five newly devised works from composers Errollyn Wallen, Shiva Feshareki, Jasmin Kent Rodgman, Jonathan Cole and Love Ssega. For more information, click here.