Petru Cotarcea, founder of Lyceum Music, explains how he set up his music school on a London double-decker bus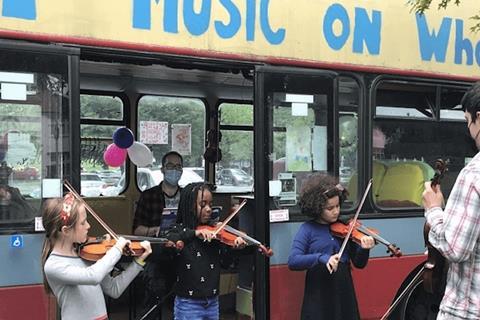 A couple of years ago, Petru Cotarcea, a London-based violinist and teacher originally from Romania, bought a London double-decker bus. His aim: to set up a music school for children from deprived areas who otherwise would have no access to instrumental lessons. Here the 24-year-old violinist explains how he went about it:
How did the idea come to you in the first place?
I had been teaching violin for a while, and would often have parents telling me that they'd love their children to learn the violin, but couldn't afford lessons at the normal rates. I could see that there was a whole segment of society left behind in terms of opportunities. So I thought about the kinds of things we could do, and one of the ideas that came to mind was to buy a bus and set it up as a music school, with free lessons at the point of access.
So I bought the bus. With a small team, we got awarded a grant to teach 300 kids in Brent for a whole year, offering each child at least 13 lessons, which is enough to get any beginner off to a good start.
The one problem was that in order to drive the bus you have to be 24, and I was only 23 at the time. But I could get a lorry-driving licence, so for a year I was driving the bus completely legally as a lorry driver.
Can you describe what it looks like?
It's a normal London double decker bus, from 2003. We took all the chairs out, put in a carpet upstairs with wooden flooring downstairs. Then we painted it in yellow, blue and green. There are curtains, lots of music stands and tables. Basically it doesn't look like a bus on the inside: it's very cosy.
Which instruments are taught at the school?
We have keyboards, a lot of violins, guitars, percussion and - once social distancing regulations are relaxed - we will also have woodwind and brass. During my years at the Royal Academy of Music I took Chinese music as an option and will play Chinese fiddle whenever I can, so we also offer that.
Read: 5 benefits to teaching online by violinist Rodney Friend
Read: 7 views on teaching stringed instruments to beginners
Read: 12 strategies for teaching adolescents
What have been the challenges?
The main challenges came with the COVID pandemic. Figuring out how to socially distance on a bus with minimal contact was quite tricky, as we had been planning to teach two or three kids at the same time to make the process more efficient. Plus it's difficult to cut out physical contact altogether when teaching a beginner, which often involves having to physically adjust the arms and fingers.
What have been the reactions from the children?
Kids love music and they love buses so the fact that we have combined those two elements, and the fact that it's so different from what they experience in school gets them very excited.
What are your plans for the future?
For now we have parked the bus because we don't know what's happening with COVID, but we are offering lessons online.
The next project - in February half term - will be called Musical Ingredients, in which we combine tuition with healthy eating lessons. The children we work with are very prone to eating fast food and junk food so we are trying to branch out to offer them something a bit more holistic.
Hopefully a vaccine will be in place by easter, and as soon as it's safe we want to get going again in a large-scale way. Although we're working mainly with children from north London at the moment, we want to reach out as far as possible because there are pockets of poverty everywhere. We have plans to get a second bus in London. Perhaps this will eventually turn into a bus empire. Who knows.
For more information, visit https://www.lycaeum.co.uk/