Cuban-born violinist Joseph White's 1875 debut with the Philharmonic Society of New York was both a triumph and enormously significant – as the orchestra's first performance with a soloist of African descent. Yavet Boyadjiev explores the event itself and the circumstances surrounding it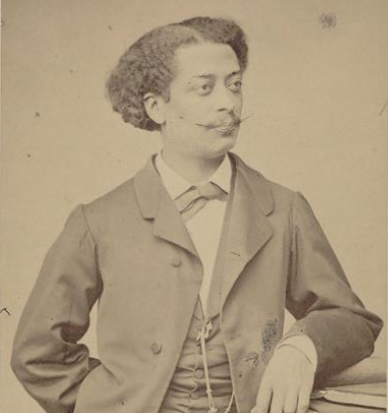 The following two extracts are from The Strad's June issue feature on violinist Joseph White's historic 1875 tour to the US. To read it in full, click here to subscribe and login. The June 2021 digital magazine and print edition are on sale now
The Cuban-born violinist Joseph White (1835–1918, born José Silvestre de los Dolores White Laffita) made New York his base during an eleven-month tour of the US from August 1875 to July 1876. During this period, he gave at least 33 performances in Manhattan, Brooklyn, Staten Island, Philadelphia and Boston, with the majority of these taking place in the then-separate cities of New York (now Manhattan) and Brooklyn. And of the 26 known appearances in what is now New York City, one stands out as uniquely important, not only for White himself but as an event of greater cultural significance. In December 1875, he became the first soloist of African descent – on any instrument – to perform as a soloist with the Philharmonic Society of New York, the orchestra now known as the New York Philharmonic, the oldest symphony orchestra in the US.
White, who turned 40 while in New York, appeared before the public there at the very top of his artistic and technical powers, receiving enormous critical acclaim. Yet he did not undertake a nationwide tour as did his European colleagues. This may have resulted from his ethnic background and the heightened awareness of race beyond the 'liberal' north-eastern US. Only a decade removed from the devastating Civil War, and with Reconstruction still taking place, large parts of the country may not have been ready for a dark-skinned performer of classical music. At the very least, it could be argued that both White and his promoters decided to play it safe.
From Paris to New York
White was born in Matanzas, Cuba, the son of a white French merchant and a black freed slave. His parents lived as a family but never married owing to strict colonial racial laws and prejudices. White's exceptional musical abilities on the violin were recognised early and confirmed by the American composer and pianist Louis Moreau Gottschalk, who encouraged his application to the Paris Conservatoire. White entered this prestigious institution in 1855, quickly winning the violin Premier Prix in 1856. He studied with Jean-Delphin Alard (1815–88), gaining the French master's support throughout his apprenticeship and professional career and becoming his lifelong friend and colleague.
By his early thirties, White had reached maturity not only as a composer (having completed his memorable Violin Concerto in F sharp minor in 1864) but also as a pedagogue. He had held an interim teaching position at the Paris Conservatoire, substituting for Alard in 1865; and his remarkable set of Six Etudes op.13 was first published in 1869 (see 'Breaking New Ground', The Strad, June 2018). They also became part of the Paris Conservatoire's curriculum in 1868. White's reputation as a performer in Paris also reached a peak with appearances at such venues as the Salle Érard, Salle Pleyel and Salle Herz. And he co-founded three music societies: Société des Trois Anciens et Modernes (1865–70), Société Schumann (1869–72) and Société de Musique de Chambre White-Delahaye (1872–3).
Read: Musical groundbreakers: Ševčík's female pupils
Read: An introduction to Joseph White and his six etudes
Read: Chevalier de Saint-Georges: violin virtuoso, composer, champion fencer and French revolutionary officer
…………………………………………………………………………………………………………………………………………………….
Historic debut
Founded in 1842, the Philharmonic Society of New York was the first major symphonic ensemble in the US. The first violin soloist to appear with the orchestra was Vieuxtemps, who performed his Fantaisie sur Norma op.18 in 1844 and was made an honorary member of the orchestra. In the following decades, violin concertos were a routine programming choice after Carl Bergmann (who trained as a cellist) became the orchestra's main conductor in 1855. A string of violinists of the highest calibre appeared between 1869 and 1874: Bull (1869 and 1870), Sarasate (1872), Urso (1873) and Wieniawski (1873 and 1874).
White's debut with the society, on 11 December 1875, took place at the Academy of Music on 14th Street and Irving Place, the city's majestic 4,000-seat venue for opera and orchestral music, with Bergmann conducting. He played Mendelssohn's Violin Concerto in E minor, until then the most-performed violin concerto by the society, and an audience favourite. His performance of Bach's Chaconne had made a strong impression during the White-Cervantes Concerts, and he was given the honour of performing it as a programmed solo in the second half of the concert. His playing captivated critics:
The most interesting incident of the concert was the violin performance of Señor Joseph White. A purer tone, daintier phrasing, and truer intonation than characterized this young artist's playing have never been enjoyed by the local public. Possibly in M. Wieniawski's execution of Mendelssohn's violin concerto there was a little more dash, but we are not sure that now and then, in accuracy of stopping, the older performer's work did not suffer a trifle by his wonderful brio. Señor White's delivery was simply perfect, the lovely andante of the composition revealing particularly the sweetness and expressiveness of his cantabile. Loud applause followed this part of the concert, but a very unusual demonstration of pleasure attended Señor White's later rendering of Bach's 'Ciaconna,' his reappearance on the stage being greeted with cheers. The violinist's interpretation of this piece has never been equaled here and the tribute in which, by the way, the band united with the audience – was fully merited.
(New York Times, 12 December 1875)
In a later report (8 January 1876), the correspondent of Dwight's Journal of Music, the country's leading, Boston-based music periodical, also praised White's debut: 'Every part of the beautiful concerto was interpreted at the best, and I have seldom heard so satisfactory a rendering, while the Ciaconna, which demands talent and artistic qualities of the very highest order, was equally well played.'
This article was published in the June 2021 Bomsori issue

The Korean violinist on graduating from the competition circuit to become an international soloist - and why singing is at the heart of her playing. Explore all the articles in this issue . Explore all the articles in this issue

More from this issue…