Anne-Sophie Mutter talks to Charlotte Smith about her very different, and yet in some ways remarkably similar, collaborations with conductor Herbert von Karajan and composer John Williams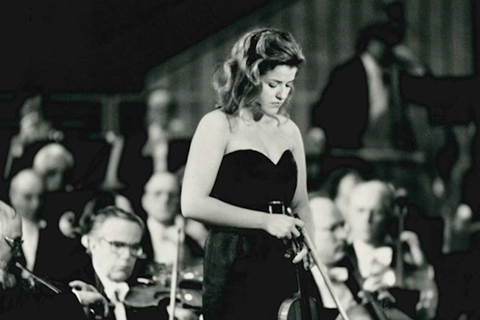 The following is an extract from a longer article in our April 2020 issue. To read in full, click here to subscribe and login. The April 2020 digital magazine and print edition are on sale now.
It is Anne-Sophie Mutter's ability to blend her personal perspective with an absolute respect for the composer's voice that creates the recognisably 'Mutter' character of her performances. She's also keenly aware of musical 'structure', having recognised its importance upon hearing that first recording of the Violin Concerto. 'The nobility that Menuhin brought to Beethoven's Concerto shaped my understanding of the composer's musical language very early on,' she says. 'It's strongly related to the German spoken language, with its strange structure in which verbs at the ends of sentences describe what you started to say an hour ago! Beethoven needs incredible concentration. Although you are showing details along the way, it's important that you never lose sight of the overriding musical thought.'
It's a lesson that was reinforced by Karajan, under whom Mutter began learning the Violin Concerto in her mid-teens. Despite sending her away to mature for another year after their initial meeting, the second session was a great success and a lesson that Mutter has never forgotten. 'We sat next to each other studying the score as the daylight died, too engrossed to turn on the lights, and he talked about legato and bow changes and fingerings. Whenever I said, "This is not possible, maestro," he would say, "I don't care if it is violinistically possible; it must be musically possible. Everything you do must be driven from the point of view of music making." Certainly, this is not a new philosophy, but when you are that close to the instrument and the physicality of it all, it is easy to lose sight of the bigger picture. The ability to retain objectivity while immersing yourself subjectively in the music was something I had to learn for that concerto.'
Of course, Mutter's relationship with Karajan and the Berlin Philharmonic is the stuff of legend – a recording partnership that took place during her teens and twenties, and which encompassed a great many of the main violin concertos. 'I have to tell you that after Karajan passed away not only did I not perform with the Berlin Philharmonic for 13 years, but I didn't play the Beethoven Concerto for quite a while and it was almost painful to accept someone else next to me.'
But eventually accept someone she did, in the form of Kurt Masur, under whom she recorded the work again in 2002. Now, for her as a mature adult, the goalposts of the 'bigger picture' had been altered. 'I was in a different part of my life. It was after 9/11 and I had been a widow for some time, so my viewpoint on the balance of life and what really matters led, I think, to a more conscious understanding of the music.
A more mature perspective comes up again when we discuss the Beethoven 'Triple' Concerto, which I saw Mutter perform at the Paris Philharmonie with Yo-Yo Ma, Daniel Barenboim and the West-Eastern Divan Orchestra a few months before our conversation. As one would expect with such a line-up, this was a supremely confident interpretation, brimming with sincere chemistry and enjoyment, never too showy or competitive, with moments of delicate intimacy and expansive bravura. 'Yo-Yo and I recorded the work under Karajan 40 years ago,' she marvels, 'and now we have recorded and filmed this season's performances in Buenos Aires and Berlin for DG [for release on CD and Blu-ray respectively in March and April 2020]. Until I have heard the new recording I have no objective standpoint on how our interpretation has changed, but what I can say is that Yo-Yo's improvisando style, his freeness and the fact that he plays without the score – which literally removes the obstacle between you and the music – all lend themselves to an instant type of communication, like telepathy, which enhances the spontaneity of the performance and the intimacy of the dialogue.'
Mutter's association with Ma is just one of a number of close collaborations that have anchored her career – not least those with Karajan, Orkis, André Previn and now John Williams, whose partnership she compares with that of Karajan. 'I worked with John for three days on his recompositions and the level of detail involved was unbelievable. He would rewrite the violin part or orchestration as we went, and we would discuss such specifics as the lengths of notes at the ends of phrases, whether they should be a crotchet or a quaver, and with or without a dot. I came home and told my children that I had learnt an incredible amount!'
This is an extract from a longer article in our April 2020 issue, in which Anne-Sophie Mutter expands on her collaboration with John WIlliams and discusses her work with other contemporary composers, as well as her mentoring programme and the 'right way' to play Beethoven. To read in full, click here to subscribe and login. The April 2020 digital magazine and print edition are on sale now.