Berlin Philharmonic first principal bassist Matthew McDonald discusses his search to find his voice as a player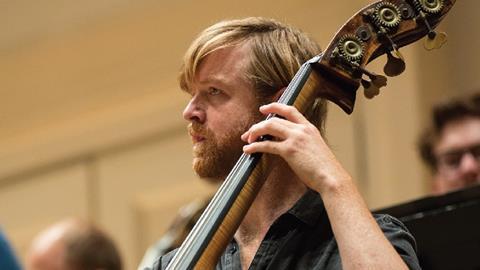 The following article is published as part of a larger feature on Berlin Philharmonic first principal bassist Matthew McDonald in The Strad's April 2017 issue, out now – download on desktop computer or through The Strad App.
'Before I took up the double bass I had ambitions to be a poet,' says Matthew McDonald. 'I'd written poetry every day from an early age, but then I fell in love with the bass. I carried on writing and reading and became influenced by the perfectionism of T.S. Eliot and Dylan Thomas – how the latter in particular would work at each phrase obsessively until it reached a point of sounding natural and even spontaneous. It turned out that I was a far better bass player than poet, but I became fascinated by the parallels between music and poetry. The habit of placing words in order by virtue of their sound and rhythm helped to make sense of tonality, articulation, harmony and so forth.'
In his teaching work at the Karajan and Hanns Eisler academies McDonald encourages students to find words or text to help them shape their phrases. 'Of course, it's useful to sing – I sing all day, and I've been playing Lieder on the bass for as long as I can remember. But imagining a text often gives a phrase a nuance and timing which make everything sound more natural. I recommend this to students as a way of helping them to find a way of using the bow not only to sing, but also to speak.
Speech patterns are inherent in musical gestures, and I encourage students to imagine an Italian text if they are playing Bottesini, German if they are playing Schumann or Hindemith, and so on. Even a little understanding of the spoken language of the composer can help you find a way into the deeper content of a piece, and knowing how to react musically to text is vital to being a good continuo player when accompanying the voice.'
To read the full article on Matthew McDonald download The Strad April 2017 issue on desktop computer or through The Strad App.
Photo: Rob Davidson