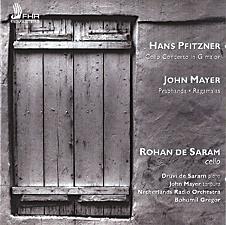 The Strad Issue: January 2012
Description: An unusual coupling of late Romanticism and Indian ragas has mixed results
Musicians: Rohan de Saram (cello) Druvi de Saram (piano) John Mayer (tanpura) Netherlands Radio Orchestra/Bohumil Gregor
Composer: Pfitzner, Mayer
If there's a link between the diverse works on this disc, it's Rohan de Saram's personal connection to the pieces themselves, or at least in the case of Hans Pfitzner's Concerto of 1935, by one remove in that it was dedicated to his teacher, Gaspar Cassadó. This concerto boasts a continuous stream of pleasant if unremarkable melodiousness, coloured by obvious and stereotypical Romantic phrases that are treated to Brahmsian thematic transformation. Relying on lyrical qualities elegantly reflected by de Saram's warm tone, it nevertheless appears devoid of dramatic charge, and this lack of intensity makes it pall. Moreover, in this remastered 1980 recording, neither the orchestral playing nor the sound quality is particularly sophisticated.
Of far greater interest is the British–Indian composer John Mayer's Probhanda for cello and piano dedicated to the brothers Rohan and Druvi and devised as a series of eight pieces utilising techniques of Indian raga and tala. The movement entitled 'Tihai' is particularly evocative, while both 'Jhala' and 'Ragatal' share a catchy rhythmic drive delivered with a fervent intensity. The Ragamalas, also by Mayer and commissioned by de Saram, couple the cello with the lute-like tanpura, which gives a captivating timbre and exotic aura to the well-defined rhythmic invention. Again, de Saram's expertise in contemporary music comes into its own as he sails through the complex metres with the sureness of an expert navigator.



Joanne Talbot